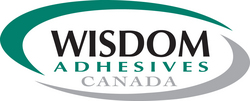 Elgin, IL (PRWEB) February 2, 2010
Wisdom Adhesives, North America's top mid-sized manufacturer of high performance, environmentally safe industrial adhesives, recently opened Wisdom Adhesives Canada as part of the firm's Global Expansion Plan. Headquartered in Toronto, Canada, Wisdom Adhesives Canada will have manufacturing, office, and warehouse facilities to supply waterbased resins, dextrin, protein and hot melt adhesive products to the packaging, converting, graphic arts and bookbinding industries in Canada.
"We are pleased to announce the addition of Loui Panakos as General Manager leading Wisdom's expansion into Canada. We feel fortunate that Mr. Panakos is spearheading our Canadian operations and know that his adhesives expertise will be invaluable. We look forward to providing our Canadian customers with our exceptional brand of industrial adhesives and customer service," states Jeff Wisdom, Chief Executive Officer and fifth-generation owner of Wisdom Adhesives.
Wisdom Adhesives Canada can be reached at 416.492.3409.
Founded in 1875, Wisdom Adhesives, North America's longest running adhesives manufacturing company, is fifth-generation owned and managed. Wisdom Adhesives is a supplier of environmentally safe and compliant water-based and hot melt adhesives to industrial users throughout the world. Wisdom Adhesives is recognized as a top mid-sized adhesive manufacturer of Water-based Resins, Dextrins, PSA's and Acrylics; Hot Melt Eva's, PE's and PSA's; Protein Adhesives and Reactive Products. Wisdom supplies adhesives to a wide range of industries including Book Binding, Converting Tissue and Towel, Graphic Arts, Packaging, Product Assembly, Textiles and General Purpose. Wisdom Adhesives has a long-standing commitment of responding to customer needs faster – with a 24-hour turnaround – than any company in its industry, providing high-quality products and personalized service second to none.
To obtain more information, call 847.841.7002 or visit http://www.wisdomadhesives.com.
Wisdom Adhesives' corporate headquarters and manufacturing facility is located at
1575 Executive Drive, Elgin, IL 60123.
###