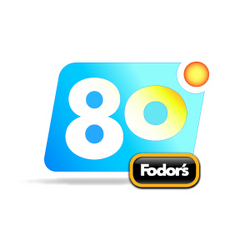 New York, NY (PRWEB) February 1, 2010
Fodor's Travel announces today the latest in their series of travel photography contests, "Show Us Your 80 Degree Vacation," where visitors to Fodors.com will have the opportunity to upload and share their favorite photos of warm-weathered destinations with other travelers and the chance to win prizes, including a Kodak ® Zi8 Pocket Video camera.
Until February 28, 2010, Fodors.com members are invited to "Show Us Your 80 Degree Vacation" by submitting their favorite warm weather vacation photos, and the stories behind them. Two grand prize winners will win a Kodak ® Zi8 Pocket Video camera plus a Fodor's Guide of their choice. Ten runner-ups will receive two Fodor's guides of their choice. All winners will be featured in a slide-show on Fodors.com and may be featured in upcoming Fodor's guides.
The "Show Us Your 80 Degree Vacation" contest is a part of Fodor's comprehensive winter travel initiative, 80 Degrees, which launched on January 11, 2010. Designed to help travelers find and book their ideal warm weather vacation, the 80 Degrees initiative on Fodors.com features integrated editorial content, community feedback, booking tools, and travel deals to 65 destinations in the Caribbean, Florida, Hawaii, Mexico, Costa Rica, and Belize.
Photo submissions will be accepted at http://www.Fodors.com/contest/80-degrees from February 1st to February 28th 2010. The winning photograph of previous contest, "Show Us Your Italy" will be featured on the cover of upcoming guidebook Fodor's Italy 2011, on sale October 5, 2010. This will mark the first time a major guidebook publisher has printed a photograph from a travel community member on a guidebook cover. Winning photos from all previous contests can be seen on http://www.fodors.com.
About Fodor's Travel
Fodor's Travel, a division of Random House, Inc. is one of the world's leading providers of travel information. Covering over 300 destinations worldwide, Fodor's guidebooks and Web site, Fodors.com, have provided the most up-to-date, accurate information for travelers for more than seventy years. Written by a team of over 700 writers located around the globe, Fodor's provides travelers with engagingly written, intelligently and accurately reported, and absolutely indispensable travel guidance.
# # #