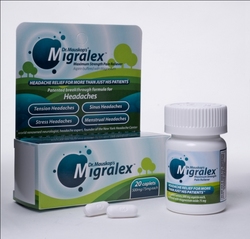 New York (Vocus) February 2, 2010
Valentine's Day can be exciting and romantic, but in one of life's extraordinary ironies, the sweetest holiday gifts - chocolate, wine, perfume and other scented products, along with rich foods, flowers and, yes, even sex – also happen to be among the most reliable headache pain triggers.
With 100 million Americans enduring regular headaches, that kind of Valentine's Day vexation could threaten to ruin the romance, were it not for some easy strategies to diffuse discomfort.
Alexander Mauskop, MD, founder of the New York Headache Center and creator of Dr. Mauskop's Migralex™ (http://www.migralex.com/), the highly effective headache remedy available without a prescription, has great advice for those at risk for Valentine's Day headaches. His suggestions include:
1) Instead of dark chocolate, opt for less-potent milk chocolate, which dilutes the candy's caffeine and other additives and may be less likely to cause a headache. Alternatively, consider opting for more soothing peppermint treats, infused with a substance known to enhance mental performance and increase the pain threshold. Also, keep a good headache medicine such as Dr. Mauskop's Migralex™ or another standard pain reliever nearby. That way, you can have your chocolate and eat it, too.
2) Beware of the red wines, which contain coloring that can precipitate headache pain. If vino is definitely on the menu, drink white wine or follow your toast with a tall glass of water and have a reliable headache medicine at the ready.
3) Scented candles, perfumes, and strong-smelling flowers are sure-fire irritants for many people. Seek out unscented products, electric candles, or such allergy-free blossoms as gladioli or hybrid roses that are not fully opened. Again, a dose of peppermint oil can effectively block the strong smells that afflict sensitive souls.
4) If sex typically spells headaches, precede your romantic interlude with an effective medication like Dr. Mauskop's Migralex™. Be sure to consult your doctor if you suffer a sex-related headache for the first time.
A world-renowned neurologist and founder of the New York Headache Center, Alexander Mauskop, MD, released his patented Dr. Mauskop's Migralex™, headache formula just this year, following two decades of intensive research and testing. While treating hundreds of sufferers battling every conceivable headache trigger, the doctor uncovered a common mineral deficiency that plays a critical role in causing pain. His powerful medication addresses the problem by blending an easily absorbed form of magnesium with a maximum-strength pain reliever. Dr. Mauskop's Migralex™, is fast acting, easy on the stomach, and free of caffeine, preservatives and sodium.
Dr. Mauskop's Migralex™ is widely available online at http://www.doctormauskopsmigralex.com/, http://www.amazon.com/ and at select pharmacies.
# # #