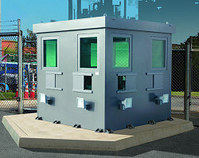 South El Monte, CA (PRWEB) February 1, 2010
Responding to the Nuclear Regulatory Commission's post-9/11 mandate for enhanced security at nuclear power plants, B.I.G. Enterprises (http://www.bigbooth.com) combined bullet-proof guard booth construction with bomb/blast resistant technology to help nuclear power plants find a reliable solution to protecting their perimeters.
Faced with a number of pressing issues including operating costs, reliability, sustainability, regulation and safety, security was determined to be the most critical need confronting administrators of nuclear power plants. The Nuclear Regulatory Commission (NRC) developed a number of mandates regarding enhanced security at nuclear power plants, power reactors, decommissioning reactors, independent spent fuel storage installations, research and test reactors, uranium conversion facilities, gaseous diffusion plants, fuel fabrication facilities, certain users of radioactive materials, and transporters of spent fuel and radioactive materials. The primary concern, common among them all, focused on enhancements to the secure perimeter and the screening of employees, vendors, and visitors as they accessed the site. A series of Advisories, Orders, and Regulatory Issue Summaries have been issued to further strengthen security at NRC-licensed facilities.
One such energy provider has responded by installing stepped-up security measures at the Columbia Generating Station—Washington State's only commercial nuclear power plant. The plant generates enough electricity to serve a city the size of Seattle. As a public power entity, Energy Northwest is committed to generating electricity at or as close as possible to cost.
Energy Northwest needed high security permanent guard booths that included such features as bulletproof glass with anti-glare coating, comprehensive defensive armor, protective sheathing and machine-gun ports.
Because blast resistance in guard booth construction is one of the new post-9/11 security requirements in specific industries, it brings with it special manufacturing needs. Unlike bullet resistance, blast resistance must deal with the two distinct phases of positive and negative pressure waves that are created radiating outward and then inward. The negative waves last three times as long as the positive waves.
Chuck Forrester, Supervisor of the plant's security force, explained, " The booth provided a quality approach as a part of an overall new checkpoint strategy. It was relatively easy to install and is significantly sounder; it's the capstone of a $5.8 million overall security enhancement."
A contract negotiator and buyer for NASA facilities summed up, "Blast-resistant guard booths are able to help prevent and check access to our facilities—that's why we buy them."
More Information about B.I.G. Enterprises:
For over 45 years, B.I.G. Enterprises, Inc. of South El Monte, CA has engineered and manufactured high quality prefabricated booths for the security and parking industry. Their large selection of preassembled buildings includes guardhouses, cashier booths, portable buildings, bus shelters and a variety of custom made kiosks.
Utilizing a proprietary "Critical Span" manufacturing technique that increases convenience and strength in prefabricated structures, the B.I.G. team has booths protecting our nation's capital, nuclear power plants, international airports, colleges, universities and corporate offices.
Contact Information:
Dave King
B.I.G. Enterprises, Inc.
9702 East Rush Street
South El Monte, CA 91733-1730
Toll Free: 800.669.1449
http://www.bigbooth.com
Contact: Sharon Beckett 626-791-7954 or sharonb(at)beckettadv(dot)com
###