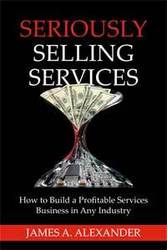 Organizations are able to grow their services revenue 25% faster, at margins twice as high, as their competitors.
Ft. Myers, FL (PRWEB) February 2, 2010
Dr. James Alexander, world-renown researcher, speaker, consultant and best-selling author on the subject of services, announces the publication of "Seriously Selling Services: How to Build a Profitable Services Business in Any Industry."
Finding new, profitable streams of revenue is one of the prime objectives of almost every business executive on the planet. But the choices are few, the challenges big, and the results often mixed. Savvy business leaders in all kinds of industries are discovering that selling services cannot only deliver new, profitable growth, but can simultaneously sell more products.
Dr. Alexander reveals that companies that are successful at selling services receive 25% to 55% of their total revenue from services at profit margins the same or better than product profit margins. Furthermore, these organizations are able to grow their services revenue 25% faster, at margins twice as high, as their competitors.
Liz Murphy, Chief Client Officer, Datatel, Inc. states, "Alexander's suggested approaches and practices really work. We've developed a services-led approach to driving software sales and seen a double-digit increase in margins by implementing the recommendations outlined in his book."
"Seriously Selling Services" offers research-based, field-proven core and best practices, lessons learned, and benchmarks for successfully selling services. This essential sales tool reveals:

Why selling services helps sell more products.
Why everyone needs to sell services.
How to tap the power of your hidden sales force within.
How to determine if selling services is appropriate for your organization.
Which of the three selling services strategies is right for you.
The common barriers to seriously selling services and the common steps taken to address these barriers that never work.
Five mandatory, "got to do it" actions required to turn box-pushers into sellers of the invisible.
Four free-to-fee strategies that never work.
How to transition from free to fee and not irritate customers or drive the sales force crazy.
What executives must say and do, and do again, to make the transition to selling services.
How to grasp the challenge of the channel to implement proven strategies.
Ten steps to building a portfolio of services that customers want and will pay for.
Five stages of leading services in a product company required both for organizational effectiveness and personal sanity.
The misconception that selling services lowers overall profit margins.
Personally autographed and non-autographed copies of "Seriously Selling Services" can be ordered at http://www.SeriouslySelling.com. Quantity discounts are available.
For more information or to schedule an interview, please contact media relations liaison David Rippe of Celestia International at 513-253-4854, or visit Alexander Consulting at http://www.SeriouslySelling.com
About Alexander Consulting
Alexander Consulting helps product companies formulate and implement services strategies for clients ranging from mature services organizations seeking the next level of performance, to newly formed organizations attempting to build capabilities, to product companies contemplating whether professional services is the proper strategic move.
Alexander Consulting offers consulting, workshops, training, and company-specific assessments and benchmarking. In addition, their pioneering research studies, books, articles and white papers have led the professional services industry for years. Alexander Consulting experts are also available for keynote speeches and presentations.
###