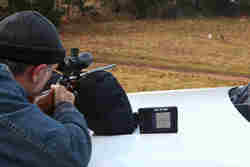 Target shooters view and mark every target hit without leaving their shooting position.
Springdale, Arkansas (PRWEB) February 1, 2010
The new Target-Cam viewing system allows the target shooter to see and mark every hit without walking to the target or trying to resolve hits with optics. Target shooters can view and mark hits on the 3.5" color hand-held display with gridded overlays for easy and accurate sighting and adjustments. The Target-Cam uses a compact video camera with a built-in digital wireless transmitter and a vibrant color display with a built-in digital receiver. Both the camera and display use lithium, rechargeable batteries. The picture quality will easily allow a shooter to resolve as small as a .17 caliber hit on standard white paper targets. Target shooters can complete a target shooting session without ever leaving the shooting position, which results in better shooting consistency, as well as, improved gun safety.
See it now at http://www.target-cam.com.
How many times have target shooters steadied a shot, squeezed off a round at a target, and walked to the target to see a hit, then walked back to the shooting position to squeeze off another round, possibly two, only to walk back again to find that they can't remember which was their first hit? The shooter is back to square one. With Target-Cam, a shooter can see the target in the palm of their hand; a hit can be viewed and marked, and the shooter is immediately ready for the next shot. The Target-Cam display uses clear grid overlays with a scale of 1" per grid, which allow the target shooter to quickly evaluate and adjust between shots. Scope sighting is quick and precise; the shooter views every hit as soon as they pull the trigger. Spotting scopes are expensive and difficult to use, and it is often difficult to resolve hits; if a shooter can see them, they are forced to remember the position of each shot. But, with Target-Cam, a shooter can easily see every shot and, by marking the hits, can effectively use more shots per target.
The Target-Cam system comes complete with wireless video camera/transmitter, wireless 3.5" color display/receiver, two AC chargers for simultaneous charging of video camera and color display, tripod for video camera set up, grid overlays with hit marking pencil, Target-Cam 8" paper targets, and hard shell storage and carrying case. The Target-Cam video camera/transmitter has a tripod mount, swing out high gain antenna and a 4 hour battery life; dimensions are 4.5 X 2.4 X .75 inches. The Target-Cam color display/receiver features digital zoom pan and tilt, on screen menu system, swing out high gain antenna and a 10 hour battery life; dimensions are 5.7 X 8.6 X 1.4 inches. The Target-Cam system uses digital pairing technology to reduce interference common on most wireless systems, giving the target shooter a top quality target image in all conditions, with up to 300 yards range.
For any sportsman who uses targets for practice, gun sighting or scope adjustment, the Target-Cam will make target shooting safer, easier and much more fun. The Target-Cam also has night vision, infrared illumination for use with tactical, night vision scopes. Once you use the Target-Cam, a target shooter will never go back to the old ways, walking back and forth, trying to guess which hit was their last.
# # #