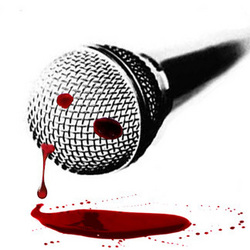 Virginia Woolf said we couldn't make a better novel, as we make a better car. Baloney. The Stahlvel is to the novel what the jet is to the horse and buggy.
Saint Augustine, FL (PRWEB) February 2, 2010
Virginia Woolf said we couldn't make a better novel, as we make a better car. Baloney. The Stahlvel is to the novel what the jet is to the horse and buggy. One of his readers called Hip Hop Murders a Stahlvel and it caught on. "I didn't like the name at first. It suggests that my novels aren't really novels. I believe they are what novels should be and have never been. For several reasons. E.g. I have written the first wordless novel. Tolstoy's translator complained that Tolstoy had no style. Tolstoy was trying to make his words disappear, as I do. The sole purpose of words in a novel is evocation. They should never break their spell by drawing attention to themselves. Few can read Dickens and Melville today because of their words- a Sargasso Sea of Victorian bilge. I am not saying this with invisible words because I want you to ponder my words and read slowly. Nietzsche was right to inveigh against speed reading."
Stahl cites a second reason why his work is unique. "My novels are pure art. I wrote them for myself, as Emerson said the artist must do. And for millions of kindred selves. Does this mean that Zombie Nation will not enjoy my novels? No. I've worked with Zombies; they enjoy them immensely. They just don't appreciate my humor. When I ask them about it they look at me like I'm crazy and say something like, dude, it's real, and God bless them it is real and there's no accounting for taste. The Romans said that by the way. De gustibus non est disputandem. So I may be deluding myself and the Zombies may be right this time."
Stahl says that the claims his novels make about the world are accurate and beyond this, they contain epiphanies. "My novels are the first epiphanic novels. They teach you things that you can learn nowhere else."
"I'm on a mission from God," says Stahl. "I intend to put bestseller Zombie novels out of business A young author has just discovered a historical curiosity in anti-bellum Ohio and she's sure to top the charts with it. The reviewer in USA Today speaks with gravitas of the rape and sodomy and other lurid crimes against helpless slave women which occurred there. Indulgent Southerners brought black mistresses there to consort with them openly and socialize with birds of a feather. I imagine how they showed off their prizes, the rivalry and high spirits, the endless cavalcade of richly-apparelled Creole queens. The authoress makes an Uncle Toms Cabin of this, in which the belle mullattes loathe their concubinage and long for the fields (jump down, turn around, pick a bale of cotton). They lay awake at night fearing that their de facto husbands will sell their own children. Dan Browns' latest is even more preposterous. We learn that the pharmacist and REALTOR who belong to the local Masonic Lodge, men we thought we knew, run the risk of evisceration if they divulge Masonic secrets. Zombies have supped on this fare for generations. My mission, their dezombification, will be a daunting one."
http://www.hiphopmurders.com. Click down to Orpheus In Tampa, or read both on Kindle.
Stahl was a trial lawyer for 34 years in Tampa and won the biggest injury verdict in Central and North Florida. He is interested in interviews and live media which will enable him to talk more about his work. Feel free to contact him at 904-325-0543, or follow him at RussStahl.blogspot.com, where he has just made his first "Address to Zombie Nation".
Avant Garde Press an online publisher.
###