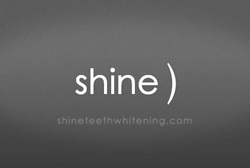 Shine is an outsourced lab that provides custom teeth whitening kits and professional strength whitening products.
Salt Lake City, Utah (Vocus) February 1, 2010
The newest service from MedicalSpaMD.com, Shine Teeth Whitening (http://www.shineteethwhitening.com)], offers professional teeth whitening services at wholesale prices to aesthetic and medical spas throughout the US and Canada. These custom fit trays and professional strength carbamide peroxide gel can bring new profits and an exciting new arm of service to tanning salons, chiropractors, and day spas throughout the U.S. and Canada.
As a MedicalSpaMD Select Partner, Shine Teeth Whitening gives every aesthetic practice a way to participate in revenue and profit of the burgeoning $300M teeth whitening industry with no training and no equipment required. Shine is an outsourced lab that provides custom teeth whitening kits and professional strength whitening products. The Shine team is trained by a certified dentist to create custom fit pliable whitening trays, which are the most comfortable and effective means of consistent and lasting teeth whitening. Shine provides these custom fit trays in conjunction with professional strength 22% carbamide peroxide gel for maximum impact. With Shine's custom-fit trays, an amount of gel as small as a match head is enough to provide powerful whitening to the entire front surface of the upper and lower 6-8 teeth in your smile.
The custom trays ensure the gel will stay safely contained in the tray, away from your gums, to prevent sensitivity. Are you a coffee drinker? Colas? Fast foods? No problem! With a custom whitening kit, clients can achieve professional whitening at home while working out, reading or cruising the internet as often as needed—and at a fraction of the cost of an equivalent kit from a dentist's office--to keep their smile perpetually bright. For practices who provide laser whitening services, pairing that service with a custom kit for home whitening will ensure that your clients' whitening progress—and their satisfaction with your whitening services—remains as strong as it was on the day the laser threatening occurred in your office, to avoid the typical degradation of their whiter teeth shade over time.
How to Participate
Shine provides dental impression putty and trays in pre-measured kits with easy instructions to help your clients capture a perfect impression. Send the impression to Shine in the pre-addressed mailer and we'll return your client's completed kit to your office for pickup within 5-10 days. To help you try Shine's new service, for a limited time you can purchase a set of two sample kits at our cost of US$96. When you are ready to provide Shine to your customers, simply order our pre-measured kits as often as needed at our low wholesale price (from US$69) and sell the completed kits for $99-$250 (value $300-$400).
Portable Whitening Pens
Shine's portable whitening pens are one of our most popular products. At US$5 and up wholesale, these fun and easy aluminum tubes are easy to private label for your own practice. They deliver professional strength whitening gel through the brush tip of a slim wind up cylinder small enough to fit in a purse or a pocket. These portable tubes sell for $25 and up on popular retail sites like Amazon and Sephora and are great for travel, for touch ups, and are especially popular with young adults and for teens.
For more information, visit http://www.shineteethwhitening.com or email help(at)shineteethwhitening(dot)com.
PR Contact
Cheryl Snapp Conner
Snapp Conner PR
801 994-9625
cheryl(at)snappconner(dot)com
###