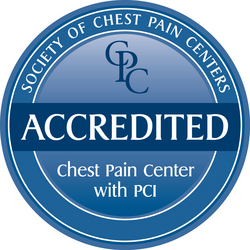 Being an accredited Chest Pain Center furthers our commitment to improving patient care and providing access to a hospital that has the appropriate measures in place to care for your heart
(Vocus) February 1, 2010
Sanford USD Medical Center once again is recognized for quality heart care. The Society of Chest Pain Centers has given full accreditation to the Chest Pain Center at Sanford USD Medical Center, making them an Accredited Chest Pain Center.
Sanford's Chest Pain Center has demonstrated its expertise and commitment to quality patient care by meeting or exceeding a wide set of stringent criteria and Core Measure quality indices. Recently we completed an on-site evaluation by a review team from the Society of Chest Pain Centers. Key areas in which a Chest Pain Center must demonstrate expertise include:

Integrating the emergency department with the local emergency medical system
Assessing, diagnosing, and treating patients quickly
Effectively treating patients with low risk for acute coronary syndrome and no assignable cause for their symptoms
Continually seeking to improve processes and procedures
Ensuring Chest Pain Center personnel competency and training
Maintaining organizational structure and commitment
Having a functional design that promotes optimal patient care
Supporting community outreach programs that educate the public to promptly seek medical care if they display symptoms of a possible heart attack
"Being an accredited Chest Pain Center furthers our commitment to improving patient care and providing access to a hospital that has the appropriate measures in place to care for your heart," said Tom Stys, MD, Medical Director of Cardiology at Sanford. "We're also working very closely with the outlying communities in our region to provide support and access to the best heart care possible."
Heart attacks are the leading cause of death in the United States, with 600,000 dying annually of heart disease. More than five million Americans visit hospitals each year with chest pain. The goal of the Society of Chest Pain Centers is to significantly reduce the mortality rate of these patients by teaching the public to recognize and react to the early symptoms of a possible heart attack, reduce the time that it takes to receive treatment, and increase the accuracy and effectiveness of treatment.
With the rise of Chest Pain Centers came the need to establish standards designed to improve the consistency and quality of care provided to patients. The Society's accreditation process insures centers meet or exceed quality-of-care measures in acute cardiac medicine.
About the Society of Chest Pain Centers (SCPC)
The Society of Chest Pain Centers is a patient centric non-profit international professional organization focused upon improving care for patients with acute coronary syndromes and other related maladies. Established in 1998, the Society is dedicated to patient advocacy and focusing on ischemic heart disease. Central to its mission is the question, "What is right for the patient?" In answer, the Society promotes protocol based medicine, often delivered through a Chest Pain Center model to address the diagnosis and treatment of acute coronary syndromes, heart failure, and to promote the adoption of process improvement science by healthcare providers. To best fulfill this mission, the Society of Chest Pain Centers provides accreditation to facilities striving for optimum Chest Pain Center care. SCPC is headquartered in Columbus, OH.
Contact:
Stacy Bauer Jones
Media Relations Coordinator
(605)328-7056
jonesst(at)sanfordhealth(dot)org
###