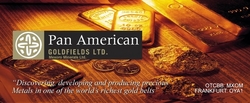 Broomfield, CO (PRWEB) February 1, 2010
Mexoro Minerals Ltd (OTCBB:"MXOM") (the "Company") today announced progress and an update on its third round of drilling at the Sahuayacan Gold project located in the Sierra Madre gold region of Mexico, 20 kilometers from Gammon Gold's 4.5 million ounce Ocampo Mine. Following the mobilization of its drilling contractor, Major Drilling Inc., on January 11, 2010, 7 holes have been completed, for a total of 470 meters of drilling, and an eighth hole is currently being drilled. In all, 4,000 to 6,000 meters in total are planned for this round, mainly in the Santa Teresa and La Cumbre target areas.
The current drilling is designed to extend areas of higher grade mineralization and further define the extent of the mineralized system at Sahuayacan, particularly along the strike of the mineralization encountered in previous drilling. The first drilling program mainly focused to test the Santo Niño and La Cumbre mineralized zones. Near-surface gold mineralization in two drill holes in those areas was encountered in the first round of drilling, including intervals of 7.5 meters of 2.56 grams per ton, 11 meters of 2.24 grams per ton, and 4.5 meters of 1.77 grams per ton.
The second round of drilling tested the Santa Teresa target, with the objective of attempting to extend areas higher grade mineralization and further defining the margins of the Sahuayacan mineralized system to the south and southeast of the project area. Drilling in the second round intersected a high grade mineralized zone, yielding 7.5 meters with 56.01 g/t Au and 283.22 g/t Ag.
The highly mineralized area was developed along the contact between a shale sequence and a volcano-sedimentary package and apparently spatially associated to a rhyolite-dacite intrusive. Surface mapping, along with the two previous rounds of drilling results suggest that the higher gold values tend to cluster at certain areas along the Santo Niño and the Santa Teresa vein structures with intervening areas of low gold grades. The cluster of high gold values indicating the development of mineralized shoots within the extensive Sahuayacan system, as evidenced by the previous intercepts, have served to guide and inspire the present drilling campaign, which the Company expects to expand the extent of mineralization and the understanding of the entire system.
About Sahuayacan
Sahuayacan is a classic low-sulphidation gold-silver epithermal project in the Sierra Madre region in Mexico. Sahuayacan pertains to the Moris District in the State of Chihuahua, and is located approximately 20 kilometers from Gammon Gold's 4.5 million ounce Ocampo Mine which has an expected annual production of 270,000 ounces of gold-equivalent. Eight other multi-million ounce deposits in the nearby region have recently been discovered and/or put into production within the last several years.
The mineralization at Sahuayacan is controlled mainly by north-northwest and northwest striking structures. Mineralization is contained in high-grade mineralized-shoots located along a 4 km mineralized northwest trending Santo Niño and Santa Teresa structures.
Historical mining reports on Sahuayacan report substantial production of gold-silver bullion in the early 1900s before being shut down because of the Mexican Revolution. The Sahuayacan property is believed to have significant potential in this previously-forgotten region that had no significant modern exploration until the Company's arrival in 2007. The Company holds a 100% interest in the project.
About Pan American Goldfields/MexoroMinerals
Pan American Goldfields/Mexoro Minerals is a Chihuahua, Mexico based gold producer and exploration company. It is a specialist in exploration, mine development and production in Mexico's booming Sierra Nevada Gold Belt. The company's most advanced project is its now producing Cieneguita Gold Mine where a feasibility study to significantly increase the mine's already growing production profile is underway. Pan American is a well capitalized junior gold producer as cash flow from its gold production and cash on hand funds its current exploration programs now underway at Cieneguita South, Piedras Blancas, and Sahyacan as well as at the Encino Gordo Project.
On behalf of the Board of Directors,
George S. Young, President
For Investor Relations Contact: Fact Sheet
Mr. Christopher R. Anderson "Chris"
604.628.7065 or Text GOLD - to 48510 (us-only)
info(at)PanaAmericanGoldfields(at)ca
Twitter: @panamgoldfields
Facebook
LinkedIn
Safe Harbor Disclosure
The information in this press release contains forward-looking statements regarding future events or the future financial performance of the Company. Please note that any statements that may be considered forward-looking are based on projections; that any projections involve judgment, and that individual judgments may vary. Moreover, these projections are based only on limited information available to us now, which is subject to change. Although those projections and the factors influencing them will likely change, we are under no obligation to inform you if they do. Actual results may differ substantially from any such forward looking statements as a result of various factors, many of which are beyond our control, including, among others, the timing and outcome of our feasibility study on our Cieneguita Project; the costs and results of our initial production activities on our Cieneguita Project; the future financial and operating performances of our projects; the timing and amount of funds received from the sale of our Guazapares Project the estimation of mineral resources and the realization of mineral reserves, if any, on our existing and any future projects; the timing of exploration, development, and production activities and estimated future production, if any; estimates related to costs of production, capital, operating and exploration expenditures; requirements for additional capital and our ability to raise additional capital on a timely basis and on acceptable terms; government regulation of mining operations, environmental risks, reclamation and rehabilitation expenses; title disputes or claims against our existing and any future projects; and the future price of gold, silver, or other minerals. These and other factors can be found in our filings with the SEC. The Company undertakes no obligation to release publicly the results of any revision to these forward-looking statements to reflect events or circumstances following the date of this release.
###