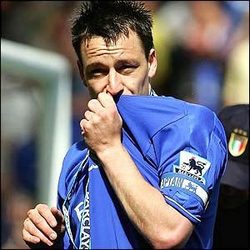 John is the right age and has the right amount of influence to really make a mark
(PRWeb UK) February 2, 2010
Following allegations that he had a secret affair with a team-mate's girlfriend, England football captain John Terry has been asked to become the first celebrity spokesperson for IllicitEncounters.com.
The extra-marital dating site, which boasts in excess of 410,000 members, have approached Terry's management at Icon Sports, offering the star up to £1 million if he agrees to become spokesperson for the site. The role would involve officially endorsing IllicitEncounters.com, as well as attending corporate events and featuring in site advertising.
The proposal to Terry's management was compiled by Adam Scott, CEO of IllicitEncounters.com. An excerpt is printed below:
"I understand that you represent Chelsea and England football captain John Terry in certain commercial affairs. I am CEO of IllicitEncounters.com, the UK's leading extra-marital affairs dating website. Launched in 2003,
Illicit Encounters now boasts over 410,000 members, primarily 30-50 year old professionals, and offers a safe and secure online destination for married people to conduct affairs."
"We are interested in John Terry becoming a spokesperson for IllicitEncounters and to this end are prepared to offer up to £1m dependent on his availability to perform a list of designated promotional duties for the site."
Current spokesperson for the site, Sara Hartley, comments, "We have been looking for a more prominent public figure to openly endorse IllicitEncounters.com for a while now. John is the right age and has the right amount of influence to really make a mark. We are excited about furthering this relationship."
Terry's management are yet to comment.
###