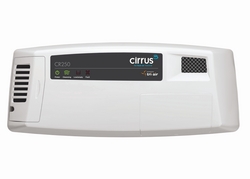 Cirrus3 could dramatically affect the way viruses and bacteria are transmitted around the world: Alan Mole
(PRWEB) February 3, 2010
Cirrus3, a revolutionary new device that recreates the protective properties of natural fresh air and kills 99.9999% of pathogenic airborne and surface bacteria and viruses in minutes is launched today. Extensive independent testing of the Cirrus3 has proven the device's 99.9999% kill rate on airborne test viruses including the MS2 Coliphage and a surface MRSA bacteria.
The Cirrus3 was invented by British Scientist Alan Mole and is powered by technology from British company Tri-Air Developments. Mole, who has been working on the technology for almost 20 years, commented: "Cirrus3 could dramatically affect the way viruses and bacteria are transmitted around the world and ultimately reduce global health threats. It's a momentous day to finally see the technology available commercially."
Cirrus3 is a 'Fresh Air Machine' that makes all the natural health benefits of outdoor air available indoors and works to continually kill off viruses living on both surfaces and in the air. It combines three existing and established decontamination technologies to create an invisible defence cloud that kills germs before they can spread from person to person.
The unique technology contained in the Cirrus3 generates a continual stream of hydroxyl radicals that are found in abundance in the natural environment and destroy any harmful bacteria in the outside air. To recreate fresh air indoors, the Cirrus3 combines UV light with extremely low levels of ozone and mixes it with volatile hydrocarbons (given off by plants) to create the Hydroxyl Radicals. It is all perfectly safe and leaves the air pure, clean, fresh and germ-free.
The potential benefits and applications for Cirrus3 are extensive. With health threats such as the recent Swine Flu scare, there is increasing concern about the transmission of infection in places where people are in close contact. With Cirrus3, in a few simple steps the air is literally wiped clean. Cirrus3 technology could quickly and effectively eradicate viruses in places such as hospitals, doctor's waiting rooms, airplanes, public transport, hotel lobbies and casinos.
The device could also help kill bugs on cruise ships, which have been plagued by the curse of Norovirus for many years. In fact any place where high numbers of people are confined in relatively close proximity could be made far safer with this machine.
The Cirrus3 250 machine is the initial unit brought to market and is capable of decontaminating a space of up to 350m³ and costs from £4,000. A smaller model suitable for spaces up to 60m³, such as hotel bedrooms, is currently in development.
###