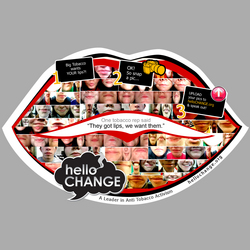 When asked about who they target, one tobacco rep once responded, "They got lips, we want them."
New York, NY (PRWEB) February 3, 2010
Teen Choice Award winning anti-tobacco activist, Chad Bullock, is thrilled to announce the kickoff of helloCHANGE.org's LIPS Campaign. Young (and old) people all over the world can upload funny, sad, angry or even sexy photos of their tobacco-free lips at http://www.hellochange.org.
The online activism campaign is based off of the response of a tobacco company spokesperson when asked about who they target. His response was, "They got lips, we want them." The purpose of the campaign is to educate young people on deception in tobacco marketing and give them creative ways to take a stand in their communities' offline.
According to the CDC's website, the three most heavily advertised brands of cigarettes — Marlboro, Newport, and Camel — continue to be the preferred brand of cigarettes smoked by middle and high school student smokers.
"I believe that we, as young people, should be aware of Big Tobacco's manipulative attempts to get our lips. Young people are the best at harnessing the power of activism so I want to give every young person the tools, information and confidence to fight back against this injustice," said Bullock.
"We aren't against smokers. We are strictly against these companies that spend billions of dollars on addicting our peers to these deadly products. I'm confident that with the help of young people everywhere, we can really impact lives with this campaign."
To schedule an interview or to learn more about the LIPS Campaign, please email nicole(at)hellochange(dot)org. To follow real time updates on helloCHANGE, follow them on Twitter.
# # #