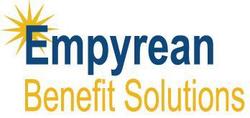 Houston, TX (PRWEB) February 2, 2010
Steve Campbell has joined Empyrean Benefit Solutions, Inc. (Empyrean) as Chief Human Resources Officer. Mr. Campbell spent the majority of his career as a principal at Hewitt Associates, a leader in providing human resources consulting and outsourcing services. While at Hewitt Associates, Mr. Campbell was the Global Talent Leader for the consulting business. Mr. Campbell assisted the organization in managing dramatic human capital growth; expanding from 2,500 employees to over 23,000 during his tenure. His experience is an important element in enabling Empyrean's strategy for high-growth within the health and welfare benefit administration outsourcing segment. Prior to his employment at Hewitt Associates, Mr. Campbell led the human resources function for The Information Consulting Group; an IT consulting firm which was acquired by McKinsey & Company. Prior to McKinsey & Company, Mr. Campbell worked in the Management Information Consulting Division of Arthur Andersen & Co.
"We are excited to have Steve Campbell join our organization. His experience as a senior HR leader with one of the industry's giants will be extremely beneficial to us as we continue to grow the business. Steve's knowledge of the HR space, ability to structure sound HR strategies and experience with scaling human capital to meet business needs will greatly assist us in the years ahead," said Dave Carlson, Chairman/CEO of Empyrean Benefit Solutions.
###