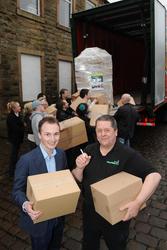 Intellicig stood out from other companies for one reason; we know exactly what is in their electronic cigarettes, which is very reassuring
(PRWeb UK) February 3, 2010
Leading electronic cigarette brand Intellicig has signed an exclusive deal which will see their products stocked in more than 10,000 retail outlets nationwide.
Intellicig is the first electronic cigarette company to partner with sales and distribution experts Innzone Ltd who work closely with major newspaper wholesalers Menzies Distribution and Smiths News to get upcoming products on the shelves in convenience stores.
Innzone will market and sell the electronic cigarettes on Intellicig's behalf, targeting 34,000 independent newsagents and convenience stores in 32 regions over a 12 month period.
David Newns, commercial director at Intellicig, said: "We are thrilled to have clinched the deal with Innzone and are looking forward to reaping the benefits of this exclusive partnership.
"We believe our electronic cigarettes really are the best on the market and signing a deal with UK's largest convenience distributor and getting the recognition we deserve is a great accomplishment. We're delighted Innzone chose us to trade with."
Innzone wanted to ensure that when the time came to distribute electronic cigarettes, they would be representing the best on the market.
Phillip Glyn, managing director at Innzone Ltd, said: "Last year we were inundated with calls from electronic cigarette companies and it was this influx that made us realise that electronic cigarettes were going to be big in the UK."
Not wanting buy on impulse, Phillip tested customer responsiveness with a product trial and decided to invest in electronic cigarettes after they proved so popular.
"Intellicig stood out from other companies for one reason; we know exactly what is in their electronic cigarettes, which is very reassuring," said Phillip.
"We guarantee quality control for all our products and as Intellicig's products have undergone intensive research, testing and stringent quality control, this makes them distinct from their competitors."
Intellicig is the only company to manufacture their own e-liquid in the UK and have established a laboratory at Manchester's Bioscience Incubator to get their products through rigorous clinical trials
"We know that our products meet the high standards set by Health Ministry Officials and this has recently been proven in the paperwork and laboratory reports that we were required to submit when striking a deal with the Egyptian Government," said David.
In the first day of the partnership alone, ten retail outlets placed Intellicig orders through Innzone.
Phillip said: "Now that the wheels are in motion we're very excited about the partnership and we have total faith in Intellicig, they tick all the right boxes and we're confident it will do well."
Once a retailer buys a batch of Intellicig, Innzone will send out the product with a digital frame to advertise the product, posters and leaflets to display in the shop, and will make payment through their newspaper wholesaler, whether it be Menzies Distribution or Smiths News.
If the retailer wishes to re-order they can either contact Innzone or one of Intellicig's agents who will personally visit the retailer.
Intellicig is available in three colours; traditional, black and silver, with red or blue glowing tips, and can be purchased online at http://www.intellicig.com.
###