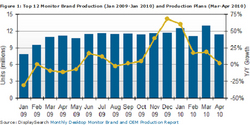 In today's volatile PC market, OEM and brand production totals are a leading indicators as to what the market may see in the near term, including pricing and supplies.
Austin, TX (Vocus) February 2, 2010
January LCD monitor production for top PC and monitor brands—about 85% of the market—was 12.5 M, the highest level in more than a year, as noted in the newly announced DisplaySearch Monthly Desktop Monitor Brand and OEM Production Report. Additionally, near-term production build-plans show that March could be the highest monthly production of LCD monitors on record, reaching over 12.9M.
"In today's volatile PC market, OEM and brand production totals are a leading indicators as to what the market may see in the near term, including pricing and supplies," notes Chris Connery, Vice President of Personal Computer Displays at DisplaySearch.
While monthly production rates like these have not been seen since April 2008, prior to the global financial crisis, it is too early to attribute the higher production levels to an increase in end-market demand. "Just because you build it, does not mean that they will come," notes Connery. "Many other factors need to be considered alongside of actual production to get a true sense of the market."
These other factors include:

Continued strong demand for 19-24" LCD TV panels, which affect the supply of similarly-sized PC displays and can cause pricing for these panels to rise amid shortages.
The threat of increased panel pricing has historically caused monitor companies to pull-in or double-book orders to receive allocation prior to price hikes. Such a pull-in of production without increased end-market demand can set the stage for high inventories.
In China, which has become one of the largest consuming regions for monitors, end-market demand for LCD monitors is not very strong in Q1'10, but production requests from the major players in the China market are still strong, with many looking to stock up for the Chinese New Year.
The growing dominance of notebook PCs, which outpaced desktop PC shipments for the first time in 2009, calls into question where the increased demand for external, larger-size displays is coming from. Surveys show that consumers (those driving the PC trends towards mobile computing) are far less likely to use a monitor with their notebook than a professional user in a work environment.
The use of LCD technology in desktop monitor displays and in all-in-one desktop PCs means this is still one of the top markets for large-area LCDs. Historically the supply chain for these products could be managed on a quarterly basis. However, the fast-paced nature of the market and its inter-dependence on other markets such as notebook PCs and TVs, which compete for the same panel production, now requires that brands and their OEM production partners track production on a monthly basis. Otherwise, they are caught short on supply or end up spending too much on panels in a supply-constrained situation.
The new DisplaySearch Monthly Desktop Monitor Brand and OEM Production Report is the most comprehensive monthly look at the $25B market for external displays used for personal computing. It includes detailed production plans by brand and by OEM on a historical basis, as well as production plans three-months out. Also included is a snapshot of OEM production by various size/resolution groupings to give procurement and senior managers to have the most-detailed and up-to-date information in this dynamic market on a monthly basis. The report is delivered in Excel pivot tables and Excel charts. For more information, contact Charles Camaroto at 1.888.436.7673 or 1.516.625.2452, e-mail contact(at)displaysearch(dot)com or contact your regional DisplaySearch office in China, Japan, Korea or Taiwan.
The DisplaySearch 12th Annual USFPD Conference, called "Laying the Foundations for the Next Wave of Growth: Energy Efficient & Low Cost Alternatives Lead the Way" will be held March 2-3, 2010 at the Hilton San Diego Resort in San Diego, California. The event will focus on all major and emerging flat panel display applications, as well as key components and materials related to the supply chain. To view the agenda and register, visit http://www.displaysearch.com/usfpd. Register by January 25, 2010 to receive the early bird discount and save $400! Media interested in attending the USFPD Conference should contact Stacey Voorhees-Harmon via e-mail at Stacey(at)savvypublicrelations(dot)net or call +1.925.336.9592.
About DisplaySearch:
Since 1996, DisplaySearch has been recognized as a leading global market research and consulting firm specializing in the $770 billion display supply chain, as well as the emerging photovoltaic/solar cell industries. DisplaySearch provides trend information, forecasts and analyses developed by a global team of experienced analysts with extensive industry knowledge and resources. In collaboration with the NPD Group, its parent company, DisplaySearch uniquely offers a true, end-to-end view of the display supply chain from materials and components to shipments of electronic devices with displays to sales of major consumer and commercial channels. For more information on DisplaySearch analysts, reports and industry events, visit us at http://www.displaysearch.com. Read our blog at http://www.displaysearchblog.com and follow us on Twitter at @DisplaySearch.
About The NPD Group, Inc.:
The NPD Group is the leading provider of reliable and comprehensive consumer and retail information for a wide range of industries. Today, more than 1,700 manufacturers, retailers, and service companies rely on NPD to help them drive critical business decisions at the global, national, and local market levels. NPD helps our clients to identify new business opportunities and guide product development, marketing, sales, merchandising, and other functions. Information is available for the following industry sectors: automotive, beauty, commercial technology, consumer technology, entertainment, fashion, food and beverage, foodservice, home, office supplies, software, sports, toys, and wireless. For more information, contact us or visit http://www.npd.com and http://www.npdgroupblog.com. Follow us on Twitter at @npdtech and @npdgroup.
Media Contact:
Stacey Voorhees-Harmon
Public Relations
Phone: 925-336-9592
E-mail: Stacey(at)savvypublicrelations(dot)net
###