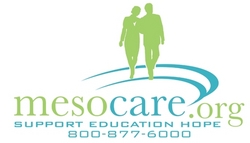 Houston, Texas (Vocus) February 2, 2010 –
Mesothelioma Mesocare.org will be sponsoring an "Ask the Expert" session for Healthcare providers, Mesothelioma patients and their families. The session will take place by phone and e-mail every Tuesday and Wednesday from 5-7 pm CST. To reach via phone, call 800-927-1002. To ask questions via email, send to expert(at)mesocare(dot)org.
Mesocare.org will address questions on asbestos related disease such as Mesothelioma and Asbestos lung cancer. For additional information, call 800- 877-6000. MesoCare.org is an advocacy group focused on assisting in the treatment and prevention of Mesothelioma in patients, their family members and health care providers.
To learn more about MesoCare, you may visit our website at http://www.mesocare.org.
# # #