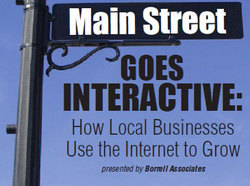 "In an effort to increase the success of local businesses we are excited to offer our business partners a valuable educational opportunity from Borrell Associates; a leader in Internet advertising information and techniques." said Dena DeRose, advertising
Medford, OR (PRWEB) February 2, 2010
Main Street Goes Interactive: How Local Businesses Use the Internet to Grow is a new seminar presented by Borrell Associates and the Mail Tribune. At the seminar – to be held Wednesday, February 24 – Medford area businesses will learn what local consumers are buying online; discover ways to increase sales with interactive advertising, and find out what local businesses in their field are budgeting for interactive advertising now and in the future.
The Southern Oregon Media Group seminar is designed to present local businesses with valuable know-how and useable market intelligence they can apply to target more potential local customers on the Internet right away. It will be presented by Borrell Associates – a leader in Internet advertising information and techniques, with a client list that includes Google, The New York Times, Washington Post and Microsoft. Borrell VP, Mr. Bill Caudill, will share his expertise and the results of Borrell's extensive research to give businesses the tools and know-how they need to develop a decisive competitive edge in the crowded online marketplace.
"In an effort to increase the success of local businesses we are excited to offer our business partners a valuable educational opportunity from Borrell Associates; a leader in Internet advertising information and techniques." said Dena DeRose, advertising director of Southern Oregon Media Group. "These seminars will provide attendees with the knowledge and relevant Southern Oregon Internet data to assist them in increasing market share in today's highly competitive and rapidly changing business climate."
Each one hour session will highlight key market indicators, proven practices, and applications for building a sound foundation for Internet marketing. Three identical sessions will be held on February 24 at 8:00am and 12:00pm at the Medford Public Library – large meeting room (205 South Central Avenue) and at 3:30pm at the Ashland Public Library – small meeting room (410 Siskiyou Boulevard). One lucky attendee at each seminar will even win an ASUS Eee PC Seashell Netbook.
Local businesses interested in learning more about the Southern Oregon Media Group's Main Street Goes Interactive: How Local Businesses Use the Internet to Grow seminar can visit http://www.MailTribune.com/seminar. The site offers an event description for this seminar, as well as online registration.
ABOUT DOW JONES LOCAL MEDIA GROUP
Dow Jones Local Media Group (http://www.dowjones.com/lmg), formerly Ottaway Newspapers, Inc., operates eight community media groups around the country – including the Southern Oregon Media Group – that collectively are comprised of 8 daily and 15 weekly newspapers, several lifestyle magazines and other niche publications, and a multitude of affiliated Web sites in seven states.
Media Contact:
Sean Polay
Product Manager, Distributed Media
sean.polay (at) dowjones (dot) com
774.313.6093
ABOUT DOW JONES
Dow Jones & Company (http://www.dowjones.com) is a News Corporation company (NYSE: NWS, NWS.A; ASX: NWS, NWSLV; http://www.newscorp.com). Dow Jones is a leading provider of global business news and information services. Its Consumer Media Group publishes The Wall Street Journal, Barron's, MarketWatch and the Far Eastern Economic Review. Its Enterprise Media Group includes Dow Jones Newswires, Dow Jones Factiva, Dow Jones Client Solutions, Dow Jones Indexes and Dow Jones Financial Information Services. Dow Jones owns 50% of SmartMoney and 33% of STOXX Ltd. and provides news content to radio stations in the U.S.
###