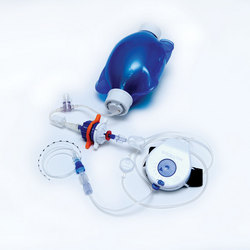 "The product delivers exceptional pain management consistent with our corporate slogan 'Recover In Comfort™' and the programmable feature makes it the best in class of pain pumps," says Richard Orr, President and CEO of ContourMD Marketing Group
Lenexa, KS (PRWEB) February 15, 2010
ContourMD is proud to announce the addition of the SmartInfuser PainPump to its product portfolio. ContourMD specializes in post-surgical compression garments and stocks a wide variety of recovery products.
The SmartInfuser PainPump (http://www.SmartPainPump.com) provides continuous post-operative anesthesia to the surgical site, greatly reducing the need for narcotics. Unlike other pain pumps on the market, the SmartInfuser PainPump is the only 100% mechanical pump that is both programmable and refillable. SmartInfuser Pain Pumps allow the medical team to modify key variables that can affect the efficiency of the anesthetic therapy.
"The product delivers exceptional pain management consistent with our corporate slogan 'Recover In Comfort™' and the programmable feature makes it the best in class of pain pumps," says Richard Orr, President and CEO of ContourMD Marketing Group. "ContourMD Marketing Group's commitment to quality is not limited to the price value equation and the dependability of our products. We continually strive to improve our product offerings and the SmartInfuser Pain Pump fits with our model."
Benefits of the SmartInfuser PainPump include:

Easy pump filling
Controlled pump settings
Simple set-up procedure
Tailored infusion strategy
High patient satisfaction
Cost Effectiveness
ContourMD has been helping patients recover in comfort for a quarter of a century, with an extensive product offering of compression garments, hosiery, bras, shape-wear and recovery aids. With the addition of the SmartInfuser Pain Pump, the company is extending its pain management offering. For more information on ContourMD's complete product line, please visit http://www.ContourMD.com.
About ContourMD
Contour® is America's first choice in premium quality post-surgical compression garments for women and men. Contour has 25 years of experience with design, fabric and craftsmanship thus rewarding patients with an unprecedented level of comfort during the recovery process.
Contourmd.com offers hundreds of products related to recovery following cosmetic procedures. The categories include compression garments, shapewear, bras and lingerie, girdles and binders, hosiery, scar treatment and mastectomy recovery.
All products are offered to help patients Recover in Comfort.
For any questions or further information contact:
Contour
8055 Bond
Lenexa, KS 66214
Phone: 800-331-6990
Fax: 913-541-0380
customerservice(at)contourmd(dot)com
Media Contact:
Adrienne Hensley
ContourMD
800.331.6990
adrienneh(at)contourmd(dot)com
###