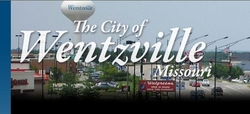 "Progressive cities, such as Wentzville, are recognizing the need to aggressively market themselves in preparation for growth,"said Steve Thomas, President, The Net Impact.
St. Louis, MO (PRWEB) February 2, 2010
The City of Wentzville, Missouri announces the December 30th launch of their newly redesigned website. Wentzville's website was designed by The Net Impact® and powered by Auctori™, the search engine friendly, web content management system (WCMS) developed by Unidev® (Unified Development, Inc.).
"Cities are a business, just like any other. They work to maximize the engagement of their community to create a deeper brand affinity," said Steve Thomas, President, The Net Impact. "Progressive cities, such as Wentzville, are recognizing the need to aggressively market themselves in preparation for growth. Wentzville's newly redesigned website is a useful platform to showcase what their city has to offer, while sharing valuable information to their citizens, employees and visitors in a very user-friendly environment."
Wentzville, Missouri's fastest growing city, approached The Net Impact to revamp the look and feel of their current website, to find a way to better manage and update their content, and to create an easy to navigate online experience for its citizens. The Auctori web content management solution was selected to manage their new, professionally designed website. Building their website in Auctori makes site enhancements quick and easy, allowing for Wentzville to upgrade their live site instantly to stay on top of current news and events.
"Municipalities have a strong set of responsibilities that they must provide to their constituents, to their local businesses and to visitors, and Auctori was built with these requirements in mind," said Andrea Bemis, Brand Manager, Auctori. "Auctori encompasses all of the tools a city needs to maintain an active, well-designed and up-to-date website, while also placing their city on the roadmap to high exposure by having search engine optimization as one of the top priorities. In choosing to build their website in the Auctori CMS, The city of Wentzville's website is easy to update and clearly presents key information in a well-organized and visually appealing fashion."
The Net Impact designed Wentzville's new website with an easy to navigate format. A key feature of the new site navigation includes the option of clicking on an "I want to .." button, which gives a list of frequently asked questions to get right to the specific information that citizens and other visitors are seeking. The site is also enabled to eventually add the pay offer, Billpay and includes a Google Site Search. In addition, the redesigned website is equipped with pictures and images that illustrate the visual appeal of this growing, Western St. Charles County City.
The City of Wentzville has a sub-domain site for their Stormwater Management Program, http://www.stormwater.wentzvillemo.org. The Stormwater Management Program is the city's ongoing commitment to meet state and federal laws and help improve the Wentzville community's water quality. The Net Impact also redesigned the Stormwater department's site to compliment the branding of the city of Wentzville's site.
The Net Impact team and the Auctori team were a perfect match to meet the City of Wentzville's unique online needs. For more information on the city of Wentzville, or to visit their newly designed website, visit http://www.wentzvillemo.org.
About The City of Wentzville
Located at the intersection of Interstates 70 and 64 and less than an hour's drive from St. Louis, Wentzville has convenience, beauty, and charm. The city has grown from a small town of only about 5,000 in 1990 to a dynamic City of approximately 26,000 in 2009, and has become a premier location for both businesses and residents. In fact, in 2008 Wentzville was named Missouri's Boomtown. As host of the Greater St. Louis Area Renaissance Festival, the St. Louis Pirate Festival, the St. Charles County Fair, Wentzville's Annual Holiday Night Lights display, and other events and festivals, Wentzville has become a destination point for tens of thousands of visitors every year.
About Auctori ™
Auctori™, a Unidev® solution, is a high capacity, high performance Web Content Management System (WCMS) built for search engine optimization. This turnkey solution will give you the power to add, edit, and delete pages, content and navigation elements on your website instantly. In addition, users will have the ability to manage profiles and settings all within the content management system. For more information on Auctori ™ or for a free demonstration, please visit http://www.auctori.com, or call (888) 629-4672.
About The Net Impact®
The Net Impact, a full service Internet marketing and web design, is a division of Unidev®. Since 1997, The Net Impact has been a web development leader, empowering clients with highly creative search engine friendly websites. Professional services encompass search engine optimization and Internet marketing solutions, Internet strategy development, training and seminars, social media marketing and design, and web design and development. For more information on The Net Impact, please visit http://www.thenetimpact.com, or call (636) -787-7800.
About Unidev®
Unified Development, Inc. (Unidev) is a diversified IT company, focused on the application of technology to business. Founded in 1990, Unidev has a long history of successfully meeting the customers' needs with proven, reliable and cost-effective solutions. Unidev provides productivity applications, custom software development and technology consulting services to both business and government. For more information on Unidev, please visit http://www.unidev.com, or call (636) 532-4424.
###