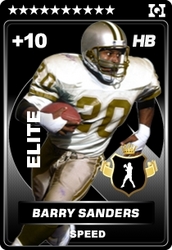 Imagine coaching a team with the likes of Barry Sanders, Christian Okoye, or Ed "Too Tall" Jones on your roster
Foxboro, MA (PRWEB) February 1, 2010
Quick Hit, Inc. ("Quick Hit"), a leading developer and publisher of free, online social sports games, today announced that it launched a new virtual goods system to the game which allows users to purchase items, namely some of football's greatest pro players, greatly enhancing the breadth and depth of Quick Hit Football. The company also announced two new promotions for Championship week; one for new players and one for existing players. New players, who create a team and become registered users of Quick Hit Football between 2/1/10 and 2/8/10, will be awarded $5.00 of in-game currency*, called Coaching Points or CP, to improve their teams. Current players can play in the Mega Bowl, which dares them to beat the game's nine Pro Coaches in an effort to win $10.00 worth of Coaching Points**.
"Imagine coaching a team with the likes of Barry Sanders, Christian Okoye, or Ed "Too Tall" Jones on your roster," said Jeffrey Anderson, founder and CEO of Quick Hit. "The community has been clamoring for ways to get these legendary players on their teams and we're excited to give them a way to play with these pros. We also just added more than 30 new legends to the hundred plus already in the game, some of whom are available on the free agent wire now."
Quick Hit players can buy or earn legends for their team, Coaching Points. Users can acquire CP by playing the game or they can visit the Quick Hit Store and buy CP in denominations ranging from $1 to $20. Users can then put their CP to good use by training up their players or drafting new legends to their team.The first phase of the draft offers 19 legends including: Barry Sanders, James Lofton, Greg Lloyd, Mike Alstott, Mark 'Super' Duper and more.
Gamers sometimes have concerns when virtual goods are introduced, wondering how it might affect a game's balance. Quick Hit Football's CP system was developed in a way that is designed to keep the game fair, regardless of whether a Coach levels up by playing the game or purchasing Coaching Points. Salary caps, improved match-making and fantasy point bonuses are just some of the solutions the development team built into the game to maintain an even playing field, regardless of whether users earn or buy CP.
"Quick Hit brings an authentic, but more casual spin to football video games that I think has been missing," said Christian Okoye, former NFL running back. "I love seeing more ways for football fans to get engaged with the sport. Being one of the legends featured in Quick Hit Football gave me a chance to get back on the gridiron – and now you can draft me to your team, so hit the wire!"
To see all the pro legends currently available for draft, visit http://www.quickhit.com.
ABOUT QUICK HIT FOOTBALL
Quick Hit Football is a free, authentic football coaching game that doesn't require a massive download. Its compelling graphics, hard-hitting action and feature-rich game play take online sports games to a new level. Play head-to-head against Pro Coaches like Brian Billick or Jimmy Johnson; take on Pro superstars, including Matt Cassel, Ray Lewis, and Brian Westbrook; or draft Legends onto your team like the famed Barry Sanders, Steve Atwater, James Lofton and Warren Moon. Unlike repetitive twitch-games, Quick Hit Football offers a persistent gaming experience that lets fans build and manage a football dynasty. Play fast, fun, free online football games, earn fantasy and coaching points with every game, and watch your team grow. Hit the gridiron and create your team today at http://www.quickhit.com.
ABOUT QUICK HIT
Headquartered in the shadow of the world-famous Gillette Stadium in Foxboro, Massachusetts, Quick Hit, Inc. is developing free, online social sports games and entertainment for a global audience. Quick Hit's products fill a massive void in the sports industry by offering head-to-head competitions that combine a rich graphical experience, the accessibility of Adobe® Flash®, and the wide appeal of fantasy sports. Its first title, Quick Hit Football, is currently in Open Beta. For more information, visit http://www.quickhit.com.
Quick Hit, the Quick Hit logo and Quick Hit Football are trademarks or registered trademarks of Quick Hit, Inc. in the U.S. and/or other jurisdictions. Adobe and Flash are either registered trademarks or trademarks of Adobe Systems Incorporated in the U.S. and/or other countries. All other trademarks are the property of their respective owners. Quick Hit and Quick Hit Football are not affiliated with, endorsed or licensed by the National Football League, any National Football League team or the National Football League Players Association.
*$5.00 awarded to new registered users who sign up for Quick Hit Football between 2/1/2010 – 2/8/2010. Coaching Points will be awarded on or about 2/18/2010.
**See Official Rules for full details. No purchase necessary to enter or win.
Press Contact:
Samantha Smith
Quick Hit, Inc.
(508) 203-4852
###