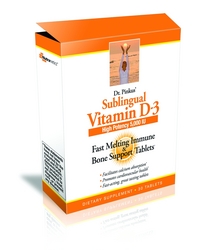 Research suggests that people can avoid and even turn around many health issues by maintaining proper levels of Vitamin D-3.
(PRWEB) February 3, 2010
Dr. Newton's Naturals, a leading provider of high quality nutritional supplements, announces the release of Dr. Pinkus' Sublingual Vitamin D-3. Optimizing 5,000 UI of cholecalciferol to build immunity, clarity, and bone density, this high potency formula was developed to address the 70% of Americans who are Vitamin D deficient. These on-the-go sublingual tablets utilize a rapid absorption technology to release Vitamin D-3 directly into the bloodstream.
The formula's creator, Dr. Michael Pinkus, explains, "Studies reveal that Vitamin D plays a much more significant role in our health than once believed. In fact, research suggests that people can avoid and even turn around many health issues by maintaining proper levels of Vitamin D-3. This data inspired my breakthrough formula and drove the reasoning behind the 5,000 IU dosage and the sublingual delivery system – which, by the way, is particularly effective for people unable to break down fats in an oil-based supplement."
Chris Homer, President of Dr. Newton's Naturals, said, "Many doctors now recommend Vitamin D supplements to their patients. That says a great deal about the scientific findings that have emerged over the past decade. We now know that it's almost impossible to get the proper amount of Vitamin D without a supplement. In fact, scientists estimate that a Vitamin D deficiency is one of the most common medical issues facing the country today."
On the topic of Dr. Newton's Naturals' customers, Homer says, "Our demographic is well informed. It isn't just that they read about Vitamin D making headlines. They do their own research and discuss what they've learned with us, and their doctors. It's a major factor in the success of our Vitamin D-3 formula. It's now our fastest-growing product."
Founded in 1994, Dr. Newton's Naturals has become one of the leading multi-channel vitamin and nutritional supplement companies in the United States. Headquartered in Portland, Maine, the company also has a distribution center in Clearwater, Florida.
Dr. Michael Pinkus is a national spokesperson for alternative health care. An author and guest on over 500 radio and TV talk shows, his patients include NFL, NBA and Olympic athletes. He has dedicated over a quarter of a century to researching several keys to health, and has developed some of the finest quality nutritional supplements on the market today.
###