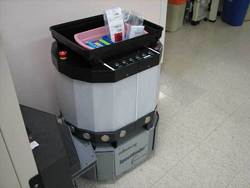 Denver, CO (PRWEB) February 2, 2010
Swisslog, a leading provider of automated materials transport and pharmacy automation solutions for hospitals, today announced that it has entered the autonomous mobile robot market with the introduction of Swisslog SpeciMinder and Swisslog RoboCourier in North America.
SpeciMinder and RoboCourier will be manufactured for Swisslog by CCS Robotics, Inc., widely recognized as a national leader in the development of autonomous mobile robots for commercial applications within hospitals and laboratories. SpeciMinder robots produced by CCS Robotics have been in use in major medical facilities for the past three years.
Autonomous mobile robots are a natural extension of Swisslog's Automated Materials Transport Systems (AMTS) product family. The AMTS product portfolio currently consists of a pneumatic tube system for rapid on-demand transport of light loads throughout a hospital and an automatic guided vehicle system for scheduled transport of heavy bulk loads. SpeciMinder and RoboCourier provide either on-demand or scheduled transport of batch loads weighing up to 50 pounds, thereby filling the void between the other AMTS products.
Both SpeciMinder and RoboCourier are highly-maneuverable, capable of passing through congested hallways and door openings as narrow as 27 inches. Their small footprint allows them to turn on their own axis. The robots, which move at normal walking speed, feature easy-to-use and flexible route generation technology and collision avoidance systems.
Swisslog SpeciMinder is available now and is designed exclusively for INTRA-departmental materials transport. For example, a large one-floor laboratory or pharmacy in which several workers frequently move goods among multiple workstations is an ideal environment for SpeciMinder. The primary benefit of SpeciMinder is a tremendous increase in operational efficiency. The robot significantly reduces the manual labor required to move materials around a large department, resulting in many man-hours being returned to the department for other work.
Swisslog RoboCourier will be available later this year and is designed for INTER-departmental materials transport. Like SpeciMinder, RoboCourier will be able to interface with doors, but it will have the added capability of interfacing with elevators and navigating hallways. This capability will allow RoboCourier to navigate multiple floors within a hospital, meaning it can transport materials from one department to another. RoboCourier's primary benefit is the same as SpeciMinder's: increased operational efficiency.
Both SpeciMinder and RoboCourier will be available for purchase or lease.
"With these new mobile robots, or self-guided autonomous vehicles, Swisslog can now offer hospitals and healthcare facilities throughout North America a complete suite of logistics solutions for materials transport," said Jim Patrician, senior vice president of Swisslog Healthcare Solutions. "As a company, we have a solid track-record of responding to marketplace demands with innovative solutions. By adding SpeciMinder and RoboCourier to our AMTS product family, we continue that tradition."
Swisslog Healthcare Solutions is the leading supplier of logistics automation solutions for healthcare facilities. Swisslog has installed automated materials transport and pharmacy automation systems in more than 3,000 hospitals and pharmacies around the world, including more than 2,000 in North America. Swisslog offers total systems design, manufacturing, installation and customer support providing a complete supply-chain management approach to the logistics challenges of hospitals. The North American division of Swisslog Healthcare Solutions is based in Denver, CO.
About CCS Robotics
CCS Robotics is based in Lapeer, Michigan, and is recognized as a national leader in the development of autonomous mobile service robots for commercial applications within hospitals and laboratory facilities. Tony Diodato, president and founder of CCS Robotics, is recognized as a pioneer in the field of service robots and a leader in the worldwide robotics industry. For more information, visit http://www.ccsrobotics.com.
About Swisslog
Swisslog is a global provider of integrated logistics solutions for warehouses, distribution centers and hospitals. Its comprehensive services portfolio ranges from building complex warehouses and distribution centers to implementing Swisslog's own software to intra-company logistics solutions for hospitals.
Swisslog's solutions optimize customers' production, logistics and distribution processes in order to increase flexibility, responsiveness and quality of service while minimizing logistics costs. With years of experience in the development and implementation of integrated logistics solutions, Swisslog provides the expertise that customers in more than 50 countries rely on.
Headquartered in Buchs/Aarau, Switzerland, Swisslog currently employs over 2,000 staff in about 20 countries worldwide. The group's parent company, Swisslog Holding AG, is listed on the SIX Swiss Exchange (security number: 1232462, Telekurs: SLOG, Reuters: SLOG.S). For more information, visit http://www.swisslog.com.
###