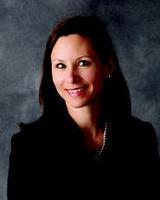 I am thrilled to be serving as president, and to be a part of an organization and mentoring program about which I'm very passionate
San Francisco (Vocus) February 2, 2010
Ophthalmic Women Leaders (OWL) has appointed Pamela Gleeson, Chief Financial Officer (CFO) of Santen Inc., as its 2010 president.
Prior to her appointment as president, Gleeson previously served as chair of the organization's Finance Committee.
"We are pleased to introduce and welcome Pamela as our new president," said Molly Schar, Executive Director of OWL. "With a deep understanding of the ophthalmic field, established relationships in the industry and a strong commitment to mentoring future ophthalmic leaders, Pamela has already moved effortlessly into her role as president with plans for expanding our offerings."
"I am thrilled to be serving as president, and to be a part of an organization and mentoring program about which I'm very passionate," said Gleeson. "Additionally, I am fortunate to work with one of OWL's founding members, Santen CEO Adrienne Graves, who encouraged me to become involved with OWL in its early years. This is an exciting time for the ophthalmic industry, with many new technologies and treatments on the horizon, as well as for women in ophthalmology, where opportunities continue to emerge and grow."
Pamela Gleeson joined Santen in 1997 and has served as its CFO since 2003. During her career at Santen, Gleeson has held positions in business development, project management, new product development and marketing before heading the finance department and serving on the executive strategy committee. Prior to Santen, Gleeson held finance positions in the high tech, mortgage banking services and retail food industries, after beginning her career at KPMG. Gleeson earned her Bachelor of Science degree in Business Administration (Finance and Accounting) from the University of California at Berkeley and is a California Certified Public Accountant (inactive). She also serves on the boards of the Napa Chamber of Commerce and Leadership Napa Valley.
About Santen Inc.
Santen Inc., based in Napa, California, is the U.S. subsidiary of Santen Pharmaceutical Co., Ltd., a billion-dollar global company headquartered in Osaka, Japan since 1890. Santen researches, develops and markets ophthalmic products for physicians worldwide. Among prescription ophthalmic pharmaceuticals, Santen holds the top share within the Japanese and Chinese markets and is one of the leading ophthalmic companies worldwide. Santen has subsidiaries in the U.S., Europe and Asia, including its wholly-owned Napa, California-based Santen Inc. For more information, visit http://www.santeninc.com.
About OWL
Founded in 2003, Ophthalmic Women Leaders (OWL) is a professional membership association whose mission is to offer professional development, provide networking opportunities and promote personal growth for women in ophthalmology. For more information, visit http://www.owlsite.org.
# # #