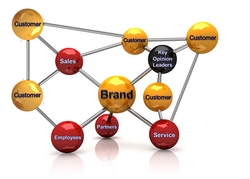 7Summits' expertise in producing real, relevant solutions is a huge value to the workshop and to our audience.
Milwaukee, Wisc. (PRWEB) February 1, 2010
7Summits' CEO, Paul Stillmank, is set to present at the Soho Seminars event "Aligning the Corporate and Personal Brand," hosted by Loyola University in Chicago. The hands-on workshop kicks off on March 4, 2010 with two full days of presentations by thought leaders in new media, marketing, branding, human resources, sales and law. Stillmank joins an elite selection of experts including Chris Brogan and Dan Schwabel to discuss methods of "Managing the Corporate Brand." Stillmank and other moderators will assist the seminar's intimate group of attendees in drafting an "Internal Branding" workbook.
According to Cd Vann, founder of Soho Publishing and Soho Seminars, "This is a workshop in the truest sense, designed for maximum attendee engagement so businesses leave knowing how to put their communications policies in place. Brand management needs to be approached from all angles, so the session led by Paul Stillmank (7Summits on) on "Managing the Corporate Brand Via Team Performance, Sales, Service and Consumer Perceptions" will be particularly key for our audience. 7Summits' expertise in producing real, relevant solutions is a huge value to the workshop and to our audience, and we're thrilled to partner with them in making social media for brands better for everyone."
Stillmank points out that "Perception is reality, so it's important to not only listen to what's going on with your brand on the social web, but to participate in a meaningful way as well. Getting your employees engaged around your brand internally both grounds them in your differentiating story and arms them with the tools necessary to support your efforts when they connect online. This is not a time to be silent, but a time to embrace these changes by aligning the corporate and personal brand – that's what this workshop is all about."
Stillmank brings strong social media expertise to Soho's workshop, leveraging a background in upper level management experience with Web 2.0 and Interactive solutions. He served as Global Solutions Vice President at Manpower before launching 7Summits. Prior to his role at Manpower, he held the position of National Solutions VP at WHITTMANHART where he enjoyed a 10-year career.
In 2009, Stillmank founded Milwaukee-based 7Summits, a Social Business Agency with the mission of helping clients' customers, employees and partners build their business. 7Summits refers to this as Applied Social Media for business. 7Summits is dedicated to helping local and national clients apply social media to drive their business imperatives. The firm offers deep marketing and social media strategy expertise to help organizations wade through the hype and focus on moving key operational metrics.
###