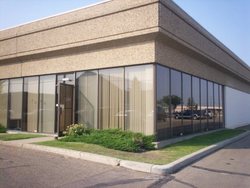 "With the recovering economy and oil prices on the rise, we are seeing more opportunities. And by opening a service location in Alberta we can now deliver our brand of personalized service which is setting a new standard in our industry. "
Toronto (PRWEB) February 3, 2010
qdata, an Industry Leader in Bar Coding, RFID and Wireless Solutions, announced today the opening of their new Edmonton, Alberta sales and service office.
Rapid growth, enhanced services and increased revenues were the key factors in qdata's decision to take over a neighboring office and warehouse property which has essentially double their office space to approximately 3,000 sq. ft.
qdata's growth has been spurred by the addition of several large new customers that require a local service centre to be able to provide instant on-site system support, staging and configuring and general repair services.
"qdata is now in the enviable position where we can fulfill almost any customer request from one of our four regional offices in Markham, Winnipeg, Vancouver and now Edmonton. Our emphasis on continual improvement, customer service and innovation has enabled us to build up a competitive advantage throughout Canada," said Jeff Lem, president, qdata.
He also believes qdata has invested in its new facility at just the right time:
"With the recovering economy and oil prices on the rise, we are seeing more opportunities. And by opening a service location in Alberta we can now deliver our brand of personalized service which is setting a new standard in our industry."
Join us on Friday, April 16th for our Grand Opening - RSVP by clicking here
New contact details: 4954 89 St. NW Edmonton, Alberta Canada T6E 5K1
Toll: 1.866.306.SCAN (7226)
Tel: +1.780.475.7226
Fax: +1-866-686-7692
About qdata
qdata is a leading international integrator of bar coding, RFID and wireless solutions. With over 4,000 installations across North America, qdata has earned the reputation of delivering innovative and powerful solutions that generate a high return on investment. From simple bolt-on products to enterprise-wide systems, qdata has the skills and experience to deliver solutions tailored to your specific needs on time and on budget. For more information, visit http://www.qdata.com.
Media Contact
Sarah Kirk, Marketing Manager - qdata
Phone: 1.905.477.1367, extension 2298 Email: skirk(at)qdata(dot)com
###