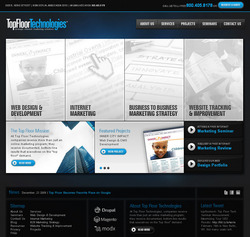 We're tremendously excited about the launch of our new Web site
New Berlin, Wisconsin (PRWEB) February 3, 2010 - -
Top Floor Technologies, a web development and search engine marketing firm based in New Berlin, recently launched their new Web site, which features a sleek, custom design for better usability.
Jim Bernthal, President of Top Floor Technologies, is confident the new site design will impress not only existing clients, but also potential customers looking for a Web design and search engine marketing firm.
"We're tremendously excited about the launch of our new Web site," said Bernthal. "Our hope is that the site will resonate with businesses looking for a proven Web marketing partner that is passionate about generating results."
The most noticeable change with the design is a transition from a light and colorful appearance to a more bold and sophisticated look, which Top Floor intends to use to reinforce their professionalism and expertise. Both are qualities that run consistent throughout their Web development and search engine marketing services. Unlike most other marketing firms, Top Floor brings together a team of focused experts to help their clients in each of the critical elements to Web marketing success. In a similar fashion, Top Floor developed their own Website with key involvement from the company's Web design, programming, and search engine marketing teams.
In addition to showcasing client success stories and outlining Top Floor's services, the new site features direct integration of the company's social media outlets. A Top Floor-related news ticker is displayed across the bottom of the screen along with the most recent company 'Tweet.' Direct links to the company's Facebook and LinkedIn pages are also provided. There is also a section devoted to showcasing past Web site development projects. This area in particular will allow potential customers to have a better understanding of Top Floor's Web design capabilities.
"I like the case studies section because it gives customers a good sense of the kind of work we're capable of," said Creative Director Jon Balza, who designed the new site. "Our portfolio shows the designs we've done and our case studies speak to our marketing success stories. Business owners want to see both design quality and examples of measurable business results when they're comparing web development firms."
About Top Floor Technologies
Top Floor Technologies delivers strategic internet marketing solutions focused on generating more leads and sales for their clients. The New Berlin-based agency is a results-focused provider of website development, search engine marketing, web analytics and conversion improvement. Since 1999, the Top Floor Technologies team has delivered successful results to hundreds of businesses nationwide in a wide range of industries. Top Floor Technologies is located at 2425 S. 162nd Street, New Berlin. For more information, please visit http://www.topfloortech.com.
###