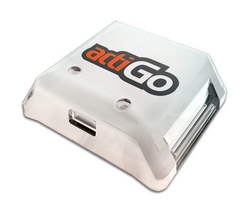 "You really can't put a price tag on good health. However, times are tough and we wanted to provide a product that is accessible to any individual or organization with the desire to achieve or promote better health through increased activity."
Pensacola, FL (PRWEB) February 3, 2010
Designed for the commercial marketplace, ActiGraph's new actiGo monitor is ideal for personal activity monitoring or for providing motivation and measuring participation in organized wellness programs. When carried discreetly in a pocket or worn around the neck or wrist, the actiGo measures calories burned, steps taken, distance travelled, activity intensity and sleep quality using three dimensional motion data and a set of scientifically validated algorithms. Users also have the ability to program daily caloric, step or distance goals, and the actiGo provides real time feedback as the user reaches milestones towards that goal. Data is uploaded to the Virtual Trainer, a robust subscription-based web program where users can also log meals, manage goals, track progress, assess sleep health, and more.
"You really can't put a price tag on good health. However, times are tough and we wanted to provide a product that is accessible to any individual or organization with the desire to achieve or promote better health through increased activity." said Jeff Miller, ActiGraph's Senior Vice President of Engineering. "The actiGo provides the motivation and accountability required to make long term lifestyle changes."
ActiGraph accelerometry-based activity monitors are the most widely used and validated devices of their kind. Considered the industry standard by the global research community, ActiGraph monitors are currently used in more than 55 countries, with applications including physical activity, obesity and diabetes research, sleep diagnostics, rehabilitation monitoring, sports medicine, commercial health/fitness, pharmaceutical testing, and veterinary science.
###