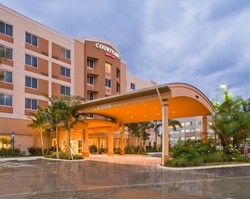 Miami, FL (PRWEB) February 3, 2010
Super Bowl XLIV is just around the corner and with great Miami hotel packages football fans have the opportunity to grasp and enjoy this great football event at affordable rates. Super Bowl football history will unfold at Sun Life Stadium and fans from across the country can be part of the excitement with fabulous Miami weekend specials. From the thrill of the game to the vibrant halftime entertainment, this will be a weekend to remember in south Florida.
With an all-new Miami Super Bowl hotel like the Marriott's Courtyard Miami West Florida Turnpike property, fine accommodations are a bonus to the exceptional rate offered to guests who take advantage of the hotel's 2010 Super Bowl Package. In order to receive the special Super Bowl advance purchase rate of $229 per night, guests at this hotel near Florida International University must book and advance pay for a three-night stay. In addition to a great rate, guests taking advantage of this special will receive deluxe room accommodations and complimentary transportation to and from the Super Bowl on Super Bowl Sunday, Feb. 7, 2010. Guests will also be provided with a Goal Line Take Away Meal which includes a Bistro Turkey Sandwich, chips and soda beverage.
Early booking is the key to securing this great Super Bowl package at the Miami hotel near Dolphin Mall. When making online reservations at http://www.marriott.com/hotels/hotel-deals/miafs-courtyard-miami-west-fl-turnpike/ the promotional code SPE is required to receive this special rate, or to make reservations by phone, call 1-800-228-9290 and ask for promotional code SPE. Offer is valid Feb. 5-Feb. 8, 2010.
As football fans converge in south Florida for the 10th time in Super Bowl history, Miami's guests will find pleasant weather, a host of fun in the sun activities, a huge selection of family attractions and an elaborate night life to create a Super Bowl excursion second to none. With great Miami hotel packages, and fabulous area attractions, a trip to the Super Bowl is a great opportunity to create a cool winter getaway at one of the hottest vacation destinations in the country. In addition to all of the Super Bowl XLIV excitement, football fans will have the opportunity to not only enjoy some of the finest vacation attractions in the world, but a wide array of cultural activities offered in the Miami area. Whether it's a trip to the famous Everglades National Park or a peaceful stroll through the Miami's downtown Art Deco district, the many flavors of Miami provide ample opportunities for creating lasting memories and a fabulous vacation experience.
About Courtyard Miami West/FL Turnpike:
The Marriott's Courtyard Miami West hotel is ideally located near the Florida Turnpike and just minutes from Miami International Airport providing quick and easy access to many major Miami attractions and businesses. With spacious rooms, modern amenities and stylish décor, the Courtyard Miami West Florida Turnpike sets the standard among area hotels, making it a great travel destination for any occasion.
###