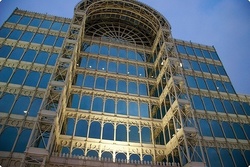 Over the past decade, as Architel has grown into one of the most successful IT outsourcing firms in Dallas, we have maintained a commitment to staying abreast of the latest technologies
Dallas (Vocus) February 2, 2010
Architel, one of Dallas-Fort Worth's largest managed services providers and a leading incubator of area technology ventures, announced that it will be the corporate sponsor of Dallas Startup Happy Hour as the monthly networking event enters its third year. Architel's first sponsored event will be at 5 p.m. today at the High Tech Bar in Dallas Infomart.
"Over the past decade, as Architel has grown into one of the most successful IT outsourcing firms in Dallas, we have maintained a commitment to staying abreast of the latest technologies," said Scott Ryan, president and CEO of Architel. "That's why we have incubated and invested in some of the most promising technologies and applications to emerge in the region, such as ShopSavvy, one of the breakthrough mobile apps of 2009. We first met the developer of ShopSavvy at the Dallas Startup Happy Hour."
Since its founding in 2008, the Dallas Startup Happy Hour has hosted monthly gatherings where more than 2,500 entrepreneurs, investors and others with an interest in the startup scene have gathered to seek advice, make pitches, evaluate potential investments – or just to meet and greet.
Based at the Infomart, Architel's state-of-the art help desk and data center help the company support more than 10,000 users. In 2009, the company completed its eighth consecutive year of growth in revenues, employees and clients; the company has achieved 360 percent revenue growth since 2004.
"Architel has been fortunate to have had the advice and support of many smart people as we have grown our business over the years," Ryan said. "Our goal in sponsoring the Dallas Startup Happy Hour is to ensure that entrepreneurs across North Texas have the same opportunity to pursue their dreams."
About Architel
Dallas-based Architel is an IT infrastructure outsourcing company focused on small- and medium-sized businesses. Architel offers managed services for a flat monthly fee, providing clients a turnkey solution to their IT headaches and a compelling alternative to traditional outsourcing services. Architel is an investor in early-stage technology companies including Big in Japan, the developer of ShopSavvy. Visit http://www.architel.com for more information.
Contact:
Cathy Baradell
The Idea Grove
(972) 235-3439
cbaradell(at)ideagrove(dot)com
###