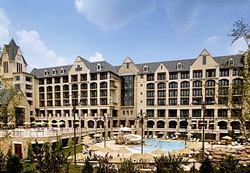 Birmingham, AL (PRWEB) February 3, 2010
This Valentine's Day, forget the flowers, chocolate and balloons and give them something they will truly appreciate. On February 14, the Spa at Ross Bridge will help to find the perfect relaxation package to fit any Valentine. Choose from seven luxury packages, each uniquely designed to revitalize and renew. Gift cards allow the recipient to choose which services they would like to experience. For appointments and more information on this Valentines package and – for true lovers – information on the hotel's wedding venues in Birmingham, call 205.949.3041 or 205.949-3055.
Valentine's Day Packages
Puppy Love $140 - The "Puppy Love" package includes a 25 minute massage for relaxing the mind and body, plus a Signature pedicure, which is described as a "facial for the feet."
A Day of Enchantment $140, $190 with pedicure
A Deep Cleansing facial promises to renew your skin and revitalize your senses, while a Simple Pleasures manicure will have you shaped and polished. For the ultimate in pampering, add a pedicure to this package.
My Heart's Desire $185 - A 50 minute hot stone massage, performed with smooth Basalt rocks strategically placed on the body, works deep into muscles and is accompanied by the Simple Pleasures manicure.
Heaven on Earth $255 - The Lavender Heaven treatment includes an aromatherapy massage, back scrub and scalp massage involving Lavender meant to relax and refresh. This package is accompanied by the aromatherapeutic Mother Nature's pedicure, which cleanses, exfoliates and moisturizes your skin.
Cherish the Moment $250, $300 with pedicure
The Ross Bridge facial cleanses, exfoliates and nourishes the skin with botanicals to create a hydrated and luminous glow. A body scrub accompanies the facial to ensure thorough rejuvenation and a Simple Pleasures manicure completes the package. Add a complimenting pedicure to ensure the highest in luxury.
Amore $295 - The "Amore" package begins with a Body Experience treatment allowing you to sink into deep relaxation through an aromatherapy mineral bath and massage. Your feet will find new life through the Heeled pedicure, which uses a soothing cool mint gel and therapy cream. Additionally, the Solarmanicure provides intense hand therapy with a sweet almond and sea salt treatment.
Forget Me Not $425, $585 with two pedicures
The perfect romantic experience for Valentine's Day, a 75 minute couple's massage will delight the senses and revitalize the muscles. Two Ross Bridge robes, in the color of your choice, are included in this package. The option to add two Signature pedicures allows you to extend your day of relaxation to suit your needs.
For more information on Renaissance Ross Bridge Golf Resort & Spa, visit the Birmingham, Alabama resort's website at http://www.marriott.com/hotels/travel/bhmhv-renaissance-ross-bridge-golf-resort-and-spa/ . The resort, which shares a location with the Birmingham Convention Center, features 259 guest rooms, easy access to restaurants in Birmingham, 20,000 square feet of meeting space and is surrounded by the third longest golf course in the world. Ross Bridge also is part of the RTJ Spa Trail.
###