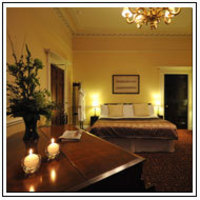 Yes, we've had a lot of requests specifically to stay in the room with the grand piano
(PRWeb UK) February 4, 2010
Historic Roscoe House in Liverpool's Rodney Street is the former home of writer, poet and slavery abolitionist William Roscoe. Now celebrating its first birthday as luxury guest accommodation, owners Urban Chic have revealed some of the unusual requests they've faced in their quest to make these luxury apartments in Liverpool the perfect place to stay.
Guests can relax and luxuriate in the grandeur of Roscoe House - each room is unique, with king sized beds, Egyptian cotton linen and a sumptuous mixture of period furniture and modern conveniences. The period property is located in Liverpool's Georgian Quarter, in reach of some of the city's finest bars and restaurants, and only a short journey from Liverpool One and the city's World Heritage waterfront.
And, painstakingly restored to its Georgian splendour, it's one of only two hotel rooms in Liverpool that can offer a grand piano as one of the fittings - and the piano has proved such a favourite that visitors often request the room.
'Yes, we've had a lot of requests specifically to stay in the room with the grand piano,' says Urban Chic CEO Conor O'Donovan. 'The problem is we've only got one piano, and we always aim to please our guests! We offer guests self-contained spaces to stay with all of their own facilities, including kitchens, dining tables and music and entertainment systems, so we're used to all sorts of unusual requests. And guests often joke about a pianist to serenade them being included in their room price.'
But if a merry pianist tinkling the ivories after dark doesn't sound like your ideal travelling companion, fear not. Conor says: 'It's a beautiful old building so it's pretty solid - we've done everything we can to retain the original features, so the rooms have their original proportions. It's a listed building and the conversion has been extremely sensitive - we've still got the thick walls and high ceilings you need to really get the feel of closing the door and shutting out the rest of the world. And of course, we'll go out of our way to respond to any requests, so if there's something you need for your apartment or your stay, we'll try and track it down for you...'
Urban Chic have come up with a list of its top ten most popular and unusual requests from customers:
1. grand piano
2. tickets to big footie matches, including Liverpool v. Manchester United
3. setting up an impromptu photoshoot in the back garden
4. directions to Abbey Road (which isn't in Liverpool)
5. painting the front door green for St Patrick's Day (from the staff!)
6. bathrobes
7. champagne
8. chocolates & flowers
9. restaurant reservations
10. historical & Beatles tours
###