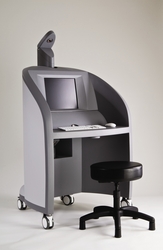 ThermoFab responds quickly to requirement changes and offers expert guidance on how best to design to minimize unnecessary costs and complications during manufacturing.
Shirley, MA (PRWEB) February 3, 2010
2010 is off to a record pace at ThermoFab with the delivery of custom plastic enclosures for many high profile medical applications such as vision correction, robotic knee surgery and ADHD diagnosis.
"Over the years we have developed a strong position in the medical device industry," stated Tom King president. "We are able to respond quickly to requirement changes, create tighter tolerances in the fit of our plastic parts, and offer expert insight and guidance to our clients and design partners on how best to design to minimize unnecessary costs and complications during manufacturing."
One recent project that really showcased ThermoFab's strengths and relationship with its design partners is the newest product from BioBehavioral Diagnostics Company (BioBDx) – the Quotient™ ADHD System. This innovative medical cart is the first FDA cleared system1 that offers medical professionals an office-based capability to conduct rapid, precise, and objective patient assessments to aid in the diagnosis of ADHD.
BioBDx wanted a design that would appeal to children and adults, a product that doctors and nurses would find easy to use, and a unit that had straightforward assembly. To accomplish this they first turned to New Hampshire-based Farm Design (http://www.farmdesign.com) to rework the look and feel. ThermoFab then worked closely with Farm Design to ensure the design concept turned into a reality.
BioBDx Director of Product Development Ken Hoadley, said, "We knew there were going to be design changes along the way, and we wanted someone who was flexible. ThermoFab easily fit into the mix. They offered assistance with design features for manufacturability to minimize costs and complications in getting this built."
"We were proud to partner with BioBDx and Farm Design on the development of Quotient ADHD System," said King. "And we look forward to sharing many more exciting announcements about innovative custom plastic enclosures for medical device companies."
About ThermoFab:
ThermoFab (http://www.thermofab.com) was founded in 1976 and is headquartered in Shirley, Mass. The company designs, develops and delivers custom plastic enclosure prototypes and products. Using a technique called "thermoforming," injection-molded detail can be achieved with revolutionary speed and quality.
# # #