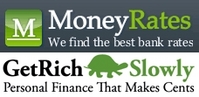 Unemployment is still lagging behind, but from my perspective, the economy seems to have hit bottom, and is finally beginning to show some signs of improvement.
Foster City, CA (PRWEB) February 3, 2010
Most respondents to an informal poll conducted by leading financial education Web sites GetRichSlowly.org and Money-Rates.com think the economy is stagnant or getting worse, despite estimates showing the fastest U.S. economic growth last quarter in more than six years.
In the second half of January, visitors to both sites were asked, "Where do you think the economy sits right now?" Of the 1,270 respondents, 45 percent said the economy is stagnant, and well over a third felt that the economy is worsening--which included those who felt the economy is "going downhill" (22 percent) and those who thought the economy was in freefall (14 percent). Only 17 percent said the economy was on solid ground and showing some growth, and a mere 2 percent noted strong economic growth.
The responses are in sharp contrast to the U.S. Department of Commerce's recent gross domestic product advance estimate, which showed the U.S. economy grew at an annualized rate of 5.7 percent in the fourth quarter of 2009, the fastest pace since 2003.
"This is a pessimistic reading of the economy, but it is understandable," Money-Rates.com spokesman Richard Barrington says of the poll results. "Jobs haven't come around, and consumers still need time to pay down debt balances. With lending tighter, a real recovery won't be forthcoming until household balance sheets are in better shape."
GetRichSlowly.org editor J.D. Roth was more optimistic than most poll respondents after a kitchen-table discussion with small-business owners. "I think things have finally turned a corner," he wrote on Monday (available at http://www.getrichslowly.org/blog/2010/02/01/is-the-economy-improving-views-from-everyday-folks/). "Unemployment is still lagging behind (as it always does and always will), but from my perspective, the economy seems to have hit bottom, and is finally beginning to show some signs of improvement."
Visitors to both GetRichSlowly.org and MoneyRates.com can access educational articles and interest rate reports to help them with setting and achieving their financial goals in any economic situation.
GetRichSlowly.org--recently named most inspiring money blog by Money magazine--is devoted to sensible personal finance. Since 2006, founder J.D. Roth has been sharing with thousands of daily readers what he has learned about debt elimination, saving money and practical investing.
MoneyRates.com has been a leading source of information on bank rates, personal finance, savings accounts and investing since 1999. The site provides the highest rates on certificates of deposits, money market accounts and high-yield savings accounts.
J.D. Roth and Richard Barrington are available for interviews on this topic and other topics relating to personal saving and investing. To interview J.D. or Richard, please contact:
Jessica Austin
479-452-0019
###