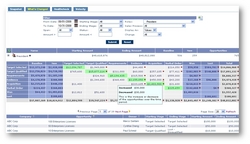 ...we can fundamentally change for the better the way our customers do business...
Arlington, VA (PRWEB) February 2, 2010
On September 28, 2009, Huthwaite—the world's leader in sales performance improvement—announced a strategic partnership with the TAS Group—the world's leader in sales performance automation—to integrate Huthwaite's unrivalled sales skills and strategy intellectual property into the TAS Group's Dealmaker platform. That integration effort is now complete and we are pleased to introduce Huthwaite Dealmaker®, an on-demand Sales Performance Automation application that embeds sales skills into every day work practices to improve sales efficiency, improve forecast velocity and close more deals. Huthwaite empowers sales organizations to move beyond simple sales efficiency to truly helping sellers become more effective at closing sales faster.
Huthwaite Dealmaker operates as either a standalone, or as an integrated component of the existing CRM to produce sustained, measurable sales results. "We are very proud to be able to bring such an extraordinary tool to the marketplace," said John Golden, President and CEO of Huthwaite, Inc. "By taking the subjectivity and guesswork out of the pipeline management process, we can fundamentally change for the better the way our customers do business. We can free up managers' time to focus on coaching and strategizing around valuable opportunities, rather than chasing down numbers and trying to ascertain the best guess for forecast accuracy."
To ensure that each sales team member receives the full benefit of continual reinforcement, the built-in Virtual Learning System delivers on-the-job training in short contextual vignettes, providing on-demand reinforcement in context with every day sales operations activities. Users quickly and easily internalize Huthwaite methodology into their daily work practice and become more proficient at selling.
Huthwaite Dealmaker helps sellers develop and practice new selling skills within the platform and provides metrics for success in every customer engagement.
About Huthwaite
Huthwaite is the world's leading sales performance improvement organization. Founded on scientifically validated behavioral research, our methodologies which include the internationally renowned SPIN® Selling, guarantee sales success. Huthwaite assesses your organization's needs and develops customized sales performance improvement and coaching programs that drive real business results. For additional information on Huthwaite, visit http://www.huthwaite.com.
###