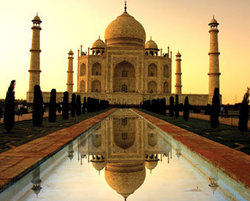 We work hard to offer a wide variety of tours, as we continue to grow the range of destinations that our travelers can choose from.
Cambridge, MA (PRWEB) February 2, 2010
As part of their "20 Years of Go" anniversary celebration this year, Go Ahead Tours, an international leader in worldwide and European tour packages, has created four new tours to India, New Zealand, Antarctica and Russia.
For twenty years, Go Ahead Tours has been creating comprehensive vacation tour packages for adult travelers who are eager to see the world. And while Europe may hold many top destinations, Go Ahead Tours understands many of their customers want to explore other parts of the world too.
"We work hard to offer a wide variety of tours, as we continue to grow the range of destinations that our travelers can choose from," said Avery Johnson, Director of Product Development. "Some travelers want to experience the thrill of seeing the White Continent or the Taj Mahal, others want to sail on Milford sound or down Russia's Volga River, and some want to explore the coastline of Ireland or the hills of Tuscany on foot. And many want to do it all!"
As Go Ahead Tours continues to offer new tours that will complement their mission to help travelers discover the world, they remain ever mindful of offering the best tour packages that meet their customers' expectations and budget. "Not only do we offer destinations that appeal to so many travelers, but we also include sightseeing tours, meals, optional excursions and transportation to make our tours comprehensive, exciting and worry-free," said Johnson.
You can learn more about Go Ahead Tours' 20th anniversary and their four new tours to India, New Zealand, Antarctica and Russia at http://www.goaheadtours.com.
Grand Tour of India
15 days from $3,499*
From the Northern cities of Delhi and Jaipur to the remarkable Ranthambore, marvel at India's most famed treasures, including regal tigers. Discover Cochin, a charming fishing village situated on the southwest coast, and the Taj Mahal, a UNESCO World Heritage Site.
Best of New Zealand
13 days from 3,999*
Take a gondola ride up a New Zealand peak; enjoy a sightseeing tour of Christchurch, New Zealand's "Garden City"; trace the coastline of beautiful Lake Tekapo as you follow the Kawarau River into Queenstown; and behold the cityscape and harbors of Auckland from atop Mount Eden.
Antarctica Cruise
19 days from $3,799*
Trace the paths of Antarctica's first and greatest explorers on a series of excursions to Deception Island, Cuverville Island, Lemair Channel, Paradise Harbor and Half Moon Island—all while you discover the dramatic scenery and wildlife of the White Continent.
Russian River Cruise
12 days from $2,799*
As you cruise along Russia's rivers, stop in Moscow to visit the Kremlin; visit Uglich, famous for its watch making; enjoy a guided tour of Goritsky, part of a circle of ancient towns referred to as the Golden Ring; and enjoy a special entry into St. Petersburg's Hermitage museum.
Established in 1990, Go Ahead Tours (http://www.goaheadtours.com) offers over 75 high-quality escorted tours around the world to travelers—both seasoned and new—who are looking to learn more about the world and themselves. Committed to breaking down barriers of culture and geography, Go Ahead provides customers with superior quality, exceptional value and an unsurpassed Best Price Guarantee; that is, if you find the same tour for less, Go Ahead will match the price. Go Ahead's parent company, EF Education, was founded in 1965 and is the world's largest private educational travel company.
*All prices are based on exchange rates, airfares, fuel prices/surcharges and land costs at the time of pricing (November 4, 2009) and are therefore subject to increase. Please note: Between $90 USD and $325 USD in government taxes and fees with respect to air travel, including the September 11th Security Fee, and port taxes are not part of the tour price.
# # #