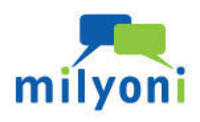 Milyoni is a facebook app that allows you to buy merchandise without ever leaving Facebook
San Francisco (PRWEB) February 2, 2010
Milyoni, Inc. today announced Super Bowl Throwdown Fanpage (http://www.facebook.com/superbowlthrowdown), a commerce-enabled Facebook page for spirited fans of the New Orleans Saints and Indianapolis Colts leading up to Super Bowl Sunday. The site demonstrates the powerful capability of Milyoni's new Conversational Commerce app that enables shopping while hanging out in Facebook, representing breakthrough capability for social networking.
Fans of Super Bowl Throwdown will not only be able to rally their teams and denounce their foes, but also instantly purchase memorabilia without ever leaving Facebook. Sports Images, Inc, a licensed NFL distributor, is providing dozens of exclusive items with officially licensed NFL team and Super Bowl items. Collectors and die-hard fans can literally own a piece of the game from Sunday's game including the Game-Used Super Bowl XLIV Sod from Stadium Associates, the NFL Game-Used Super Bowl XLIV Sod licensee.
"We see Facebook as a fantastic place to offer our first ever collectible and piece of NFL history, said Dave Andres, CEO of Stadium Associates, "It's where fans will be hanging out before, during and after the game." Super Bowl Throwdown is the exclusive provider on Facebook of Game-Used XLIV Sod including preserved and protected sod cutouts from the Saints End Zone, the Colts End Zone, the 50 Yard Line and limited Collector Set of all three.
Milyoni (pronounced 'million eye') launched their social networking platform in January and already hosts over a dozen Facebook stores. Founded by former executives of retail and technology companies, their technology platform empowers merchants to transform loyal fans into profitable customers and viral promoters.
"We wanted to change the traditional mindset of using advertising to bring customers to another website or online store," said John Corpus, CEO of Milyoni. "Milyoni deploys your store to where people want to spend their time on the Internet - namely in Facebook and other social networking sites with their friends and family."
Visit http://www.facebook.com/superbowlthrowdown this week to join the conversation, win free items and experience buying power on Facebook.
About Milyoni: Founded in February 2009, Milyoni, Inc. (http://www.Milyoni.com) is a social networking apps provider pioneering the category of 'conversational commerce'. Milyoni allows merchants to conveniently sell within the context of Facebook or other social networking platforms. Transforming and monetizing social networking strategies with social networking apps that include ifanstore and ireply2buy, the Milyoni platform can convert your loyal fans into paying customers and viral promoters.
About Sports Images: Sports Images, Inc (http://www.sportsimages.com) is the industry-leading distributor of licensed sports and entertainment merchandise and trading cards. Since 1989, we have strengthened our relationships with our clients by providing them with deep commitment, huge selections and value driven products. Our knowledgeable sales staff has successfully provided our retailers with unmatched service, one-stop shopping and lightning-fast shipments from our offices in MA and OH.
About Stadium Associates: Stadium Associates, LLC. (http://www.StadiumAssociates.com) the company that is the National Football League Authentic Team Sod and Game-Used Team and Super Bowl XLIV Sod licensee. Stadium Associates is also the Major League Baseball Authentic Collection Team Sod™ licensee. Stadium Associates is fully licensed by The Collegiate Licensing Company, an IMG Company, and is the exclusive vendor for Game-Used Sod from The Rose Bowl Stadium beginning with the BCS National Championship Game.
###