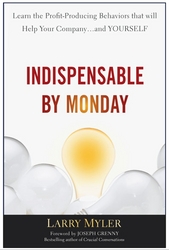 profit-producing behaviors that will help your company and yourself
Provo, UT (Vocus) February 3, 2010
Indispensable By Monday enters stores throughout the U.S. today as an instant best seller. The new business book from author Larry Myler, CEO of More or Less Inc. (http://www.moreorlessinc.com), gives workers, job seekers and companies everywhere the secret to job security, new jobs and more profit right now (hence the "By Monday" title the book and the author proclaim).
Myler has clearly hit the nail on the head: pre-release buzz has made the book an instant best seller from pre-orders on Amazon.com, Barnes & Noble, BooksAMillion.com and Borders.com. The book is on four bestseller lists on Amazon and 800CEOREAD even prior to becoming available on shelves.
Record unemployment, a weakened economy and struggling businesses make Myler's premise a particularly urgent "must have": Myler teaches readers the "profit-producing behaviors that will help your company and yourself" the cover proclaims.
Stephen R. Covey, of The Seven Habits said, "Produce more financial value than you cost. What a concept! Master this easier-said-than-done process and you can name your own price in the working world."
In national interviews Myler is teaching companies, workers and prospective hires at all levels to produce more money than they cost, making them "indispensable" to the organizations they serve. An online Profit Proposal Generator helps readers vet their ideas into a one-page board-level PDF report to evaluate and support strategies to find and produce new profit based on the ideas they have.
"I'm making the core concept of increasing revenue and cutting costs accessible to every individual, at any level of a company, with no accounting background required," Myler said. "When executives and employees learn this trait it becomes a mindset that affects the entire company's culture. We can eliminate employees' fears for the economy by giving them the power to ensure their own new jobs and futures by producing the implementable, profitable plans that can assure their worth at any company they serve. "
As a company, More or Less, Inc. provides webinars, workshops, training and consulting services. Organizations that have hosted Myler's Profit JumpStart workshops have found millions of dollars of new profit within the hour and a half it takes to conduct the sessions, with the majority of the ideas originating from non-executive staff.
For more information about Indispensable By Monday visit http://www.indispensablebymonday.com.
About More or Less, Inc.
More or Less, Inc. is a privately-held company in Salt Lake City that offers business training and consulting in the areas of profit enhancement, sales expansion, market positioning, and employee engagement. To find out more about More or Less, Inc., or to try the Profit Proposal Generator tool, go to http://www.moreorlessinc.com. Become a fan of Indispensable By Monday on facebook and follow Larry Myler on twitter @LarryMyler.
Media Contacts:
Kyle Henderson or Cheryl Snapp Conner
Snapp Conner PR
(801) 994-9625
kyle(at)snappconner(dot)com
cheryl(dot)snappconner(dot)com
###