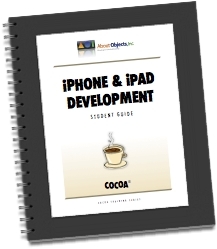 Reston, VA (Vocus) February 3, 2010
About Objects, Inc. will be offering a completely revamped version of its most popular iPhone development training course that will include coverage of Apple's new iPad tablet computer. While the version of the iPhone SDK required for iPad development (3.2 beta) is currently under a non-disclosure agreement, Apple has indicated that the agreement will no longer be in force when the iPad ships, which according to Apple will be in late March.
Accordingly, About Objects plans to offer the first class to incorporate the new material in April of this year. The 5-day, hands-on course, entitled Introduction to iPhone and iPad Development, will be offered initially at the Hilton Garden Inn in Cupertino, California April 26-30, and then in Reston, Virginia in late May.
The new course will take the place of the current iPhone Programming Workshop in the About Objects curriculum. According to About Objects President Jonathan Lehr, "Although we've consistently gotten great feedback on the iPhone Programming Workshop from developers at companies like Apple, Intuit, Symantec, Sybase, Raytheon, NASA, and Yahoo!, we expect our new Introduction to iPhone and iPad Development to include some major improvements beyond just the added coverage of iPad development. I'm really excited about what we've got on the drawing boards, and if the past is any guide, I think developers who take this course are going to be really happy that they did."
About Objects will also offer a new bundled course pairing Introduction to iPhone and iPad Development with the existing, 2-day Objective-C for Beginners course. The bundle, entitled iPhone and iPad Development Bundle, will be offered as a 7-day class at the Hilton Garden Inn in Cupertino that starts on April 24. About Objects has posted a new guide on their website to help prospective attendees determine which course or combination of courses is best suited to their individual needs.
Pricing for the new courses is as follows:
Tuition for the 5-day Introduction to iPhone and iPad Development class is $2,495, with discounts available for early registration and for groups of three or more students. Tuition for the 7-day iPhone and iPad Development Bundle is $2,995, with discounts similarly available. Both courses are also available for onsite delivery at the customer's facility, as well as for private classes at an About Objects facility.
###