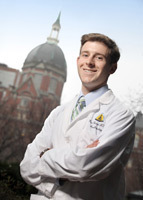 Washington, DC (Vocus) February 3, 2010
Recording for the Blind & Dyslexic (RFB&D®), the nation's largest provider of educational audio textbooks, today honored six outstanding students with print disabilities at its 50th annual National Achievement Awards celebration.
In addition to receiving cash prizes of $6,000, the award winners and their families will meet with Members of Congress at a Congressional reception held on Capitol Hill in their honor.
Since 1959, RFB&D has honored exceptional students through the privately endowed Mary P. Oenslager Scholastic Achievement Awards (SAA) for college seniors who are blind or visually impaired. The Marion Huber Learning Through Listening® Awards (LTL®) were instituted in 1991 for high school seniors with learning disabilities such as dyslexia. Students are recognized for their extraordinary leadership, scholarship, enterprise and service to others. Hundreds of students apply each year and are selected by volunteer committees of educators and professionals.
All of these students have thrived on their education paths thanks in part to their extensive use of audio textbooks and assistive technology provided by RFB&D. This year's winners include:
•Alyssa Lang, Jacksonville, FL. Diagnosed with dyslexia in her junior year in high school, 18-year-old Alyssa struggled and compensated for years by literally memorizing every word she encountered. She graduated with a 4.31 GPA and now attends the University of Notre Dame.
•Monty Anderson, Honolulu, HI. Undeterred by blindness, Monty, 37, is a student at the University of Hawaii. He finished his double master's degree in psychology and behavioral neuroscience – and is now a high achiever in law school.
•Scott Bartnick, Orlando, FL. After his diagnosis in the first grade with a severe learning disability, Scott's family was told that he might never be able to read. Through intense perseverance and hard work, Scott graduated from Edgewater High School with a 4.35 GPA and is now at the University of Florida, Gainesville, majoring in engineering. He is also an Eagle Scout and member of the National Honor Society.
•Ashley Reese, Westlake, OH. At the beginning of her schooling, Ashley hated to read – but she loved to hear others read. It all made sense when she was diagnosed with dyslexia in the fourth grade. Now 18, she is a successful student at George Washington University, and has founded her own non-profit – "DanceXchange," which collects and distributes used dance clothes and shoes to at-risk children and teens.
•John Russo, Daingerfield, TX. At age 44, John graduated from Texas A&M University with a 3.89 GPA. He discovered later in life that early laser experimentation had caused his blindness as a child. He is now back at Texas A&M, working toward a Masters degree in Interdisciplinary Studies.
•Kurt Herzer, Melville, NY. At 22, Kurt is legally blind and has just received his BA in Public Health from Johns Hopkins University with a 3.87 GPA. Diagnosed with his visual disability at birth, Kurt has cultivated broad interests including playing the piano, oil painting, and breeding fruit flies for genetic study. He is currently a Marshall Scholar at the University of Oxford in the UK, studying social policy.
For full biographies of these NAA winners, visit http://www.rfbd.org/naa50/ and click on the student photos.
About Recording for the Blind & Dyslexic®:
Founded in 1948, RFB&D serves more than 250,000 K-12, college and graduate students, as well as veterans – all of whom cannot read standard print due to blindness, visual impairment, dyslexia, or other disability. RFB&D's collection of nearly 60,000 digitally recorded textbooks and literature titles – delivered through internet downloads, various assistive technology devices, and CD – is the largest of its kind in the world. More than 6,000 volunteers across the U.S. help to record and process the books, which students rely on to achieve educational success.
RFB&D, a 501(c)3 nonprofit, is funded by grants from the U.S. Department of Education, state and local education programs, and the generous contributions of individuals, foundations and corporations. For more information, call (866) 732-3585 or visit http://www.rfbd.org .
###