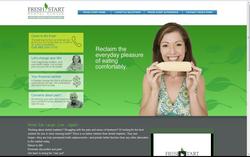 Salt Lake City, UT (Vocus) February 3, 2010
Dental Implants have been available for years, and are considered to be healthier, more comfortable options than bridges or dentures to replace missing teeth. However, dental implants can often be overlooked as treatment options because it can sometimes take months or longer to provide treatment. Fresh Start Dental, a practice offering cosmetic and implant dentistry in Salt Lake City, Clearfield, and Grand Junction, Colorado has established a new model for treatment utilizing new technology and dental implant specialists which allows permanent tooth replacement via dental implants in as little as one day. The practice has opened four locations across Utah and Colorado, providing permanent dental implant options for patients that are missing teeth or are suffering from the discomfort and health issues associates with denture wear.
Tooth loss is a widespread health concern. In North America alone, more than 100 million people are missing one or more teeth, and as many as ten million may be missing all of their teeth. Most people are aware of some of the problems associated with dentures. Although there have certainly been improvements to dentures over the years, the basic concept has not changed for centuries. People who wear dentures often suffer from embarrassment and discomfort caused by the dentures slipping. Many are unable to eat the foods they would like, and are even embarrassed to smile. What may not be known to denture wearers is the impact that missing teeth may have on their health. Once the tooth (teeth) is removed there is a small area of the jawbone that no longer needs to provide support, and slowly begins to deteriorate. Although this bone deterioration happens slowly it can be significant, sometimes requiring a bone graft to replace the loss.
Dental implants are the modern solution to tooth restoration. At Fresh Start Dental Center's practice offering dental implants in Grand Junction, Colorado, Salt Lake City, and Clearfield, Utah, this method of replacing missing teeth is a secure alternative to dentures due to how the implants are placed. They do not slip and look natural. People who have received dental implants are able to restore more than 90% functionality, including the ability to eat whatever they want. Because dental implants are created with a titanium post that functions in much the same way that the natural tooth's root functions, bone loss is not a concern with dental implants.
Fresh Start Dental's unique approach to dental implants provides patients access to all necessary aspects of the dental implant processes in one location. Specialists, including oral surgeons in Salt Lake City and our other Utah and Colorado locations, as well as prosthodontists, work together utilizing state-of –the –art equipment, such as their on-site CT imaging systems. This technology makes it possible for Fresh Start Dental's implant dentistry team to get a more precise fit for the implant in order for it to look and function in the most effective way possible. Plus, Fresh Start Dental performs all care in one place, and can typically complete care in one office visit after the initial, free consultation. The practice also performs all treatment in its fully-equipped, on-site operatory suites.
Colorado and Salt Lake City, Utah implant dentists at Fresh Start Dental say that many patients are able to take advantage of technology available at the practice that allows them to have permanent, beautiful replacements for missing teeth in just one day of treatment.
And that could be enough to make anyone smile.
Fresh Start Dental Center can be reached at any of its locations in Utah and Western Colorado, including Salt Lake Metro, Davis County, and Grand Junction, Colorado, at (888) 244-1110. The practice can also be contacted via website at http://www.freshstartdental.com.
###