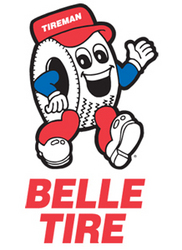 Allen Park, MI (PRWEB) February 3, 2010
Between December 26, 2009 and February 28, 2010 Belle Tire customers can receive up to an $80 mail-in rebate with purchase of select sets of four Goodyear tires.
For additional savings, when customers use their new or existing Goodyear credit card to purchase the tires, the rebate is doubled. Customers can then get up to a $160 mail-in rebate. In addition, new or existing Belle Tire Advantage members can use the $20 off anything coupon for a total savings of up to $180 on select sets of four Goodyear tires.
The qualifications and restrictions include:

A set of four (4) qualifying Goodyear tires of the same model must be purchased at the same time.
The set can only be for one vehicle.
All offers expire at the end of the day February 28th, 2010.
Visit Belle Tire's website to print and fill out the Goodyear Tire Mail-In Rebate Form. Customers will need to supply their zip code, the last four digits of their Goodyear credit card and their contact information. Mail complete forms to America Gets There With Goodyear, P.O. Box 54989, Cincinnati, OH 45254-0989. Customers may also pre-submit and track their rebate online at http://www.GoodyearRebates.com.
Prices shown on BelleTire.com do not reflect the promotional offer. Mail-in offers are generally received six to eight weeks after they are submitted.
About Belle Tire:
Allen Park, Mich.-based Belle Tire was founded in 1922 when it opened the first Belle Tire location in Detroit, Mich. Today, the company has expanded to 80 locations across Michigan and Ohio. Belle Tire offers discount tires and variety of car care needs, ranging from auto glass repair, auto glass replacement, brakes, alignments, batteries, shocks and struts, exhaust system repair, batteries, and oil changes. For more information about the Goodyear rebate through Belle Tire visit http://www.belletire.com//RebateDescription.aspx?rebateId=21 or join the Belle Tire Advantage at http://belletireadvantage.com/.
###