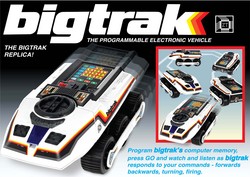 We wanted to take this incredibly popular toy and do something truly spectacular for the millions of children that came to love BIGTRAK in the 1980's by enabling parents of today to buy one of the most memorable toys from their past
(PRWEB) February 2, 2010
Zeon Limited, a wholly owned subsidiary of the Herald Group is proud to announce the return of BIGTRAK, the legendary programmable electronic vehicle that was introduced in the 1980s and quickly became a favourite of millions of boys and girls around the world. The product will be launched at the Spring Fair exhibition next week.
Zeon will relaunch an authentic reproduction of BIGTRAK, boasting all the features of the original model, including 23 button keypad, front-mounted blue photon beam headlamp and the ability to store up to 16 preset programmes.
"This is a very exciting time for Zeon. BIGTRAK was one of the most exciting toys from my childhood and it's so exciting to see the revival of this product," said Simon Gilham, General Manager of Zeon Limited in London. "We wanted to take the incredibly popular toy and do something truly spectacular for the millions of children that came to love BIGTRAK in the 1980's by enabling parents of today to buy one of the most memorable toys from their past and bring it back to life for their own children to enjoy and of course for those who simply wish to have the toy they were never lucky enough to own as a child! This introduction mirrors the trend for retro toys and games but even by today's standards of technology, this is still an immensely fascinating toy to play with what ever age you are!"
BIGTRAK will be available in stores nationwide from July 2010, priced at £39.99, with accessories following in 2011. For more information about BIGTRAK visit: http://www.zeonltd.co.uk/bigtrak
About Zeon
Zeon Limited is a nationwide leader in providing children's leisure time products with a rich portfolio of brands that provide some of the highest quality and most recognisable play and recreational experiences.
As a brand-driven, consumer-focused company, Zeon brings to market a range of gifts, gadgets and licensed products, from traditional to high-tech and digital, under such powerful brand names as DISNEY, POWER RANGERS, HELLO KITTY, SCIENCE MUSEUM, DISCOVERY CHANNEL and THE SIMPSONS. Zeon works from the origination of the designs, through to manufacture and distributing to major retailers.
Additional information on Zeon is available at: http://www.zeonltd.co.uk
###