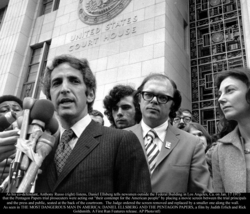 View the trailer.
New York, NY (PRWEB) February 2, 2010
The Most Dangerous Man in America: Daniel Ellsberg and the Pentagon Papers was nominated today for the Academy Award® for Best Documentary Feature, it was announced today by A.M.P.A.S.®. The film is currently on screen in New York City at the Cinema Village and will enjoy a nationwide theatrical release by First Run Features to cities including Boston, Los Angeles, San Francisco and Washington, D.C. starting on February 12th.
Co-director Judith Ehrlich stated this morning, "This is a story of one man's change of heart from war maker to peacemaker, the story of the most courageous moment in the history of the American press, and of America's most famous whistle blower. The nomination is a thrill because it gives me hope that many more people will be inspired to stand up against war by Daniel Ellsberg's astounding act of civil courage."
Rick Goldsmith, Co-director, commented, "Naturally I'm thrilled with the nomination. What I think audiences of all generations are responding to is, first, a compelling story about someone who chooses conscience over career. Second, the parallels between how our government deceived its own people to execute an immoral war in Vietnam resonate powerfully with our nation's two current wars. And third, it's easy to feel powerless to effect change in this country. People often feel, 'why bother?' This film, I hope, will inspire, and can help to answer that question."
In 1971, Daniel Ellsberg, a high-level Pentagon official and Vietnam War strategist, concludes that the war is based on decades of lies and leaks 7,000 pages of top secret documents to The New York Times, making headlines around the world. Hailed as a hero and ostracized by even his closest colleagues, Ellsberg risks life in prison to stop a war he helped plan. This is the riveting story of one man's profound crisis of conscience that shook a nation, its courts, its free press and its presidency to the core. It is also an acutely timely and piercing look at the world of government secrecy in wartime as revealed by the ultimate insider. Marked by a landmark Supreme Court battle between America's greatest newspapers and its president, this political thriller unravels a saga that leads directly to Watergate, Nixon's resignation and the end of the Vietnam War.
Media contact: Julia Pacetti, JMP Verdant, (917) 584-7846, juliapacetti(at)earthlink(dot)net
For nationwide play dates, downloadable photos and press notes, go to: to: Firstrunfeatures.com
###