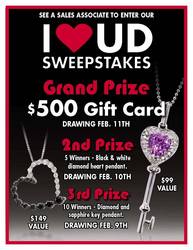 Our relationship with our customers is the most important thing to Ultra Diamonds- we wanted to spread he joy to more people and added 15 NEW product prizes!
Chicago, IL (PRWEB) February 4, 2010
Ultra Diamonds (UltraDiamonds.com) – the 5th largest fine jewelry retailer in the United States – is pleased to announce its "I Love UD sweepstakes", featuring 15 product prizes, including a ¼ carat black and white diamond pendant and a sapphire and diamond heart pendant, in addition to a grand prize of a $500 shopping spree. The drawing for all prizes will be held Feb 9-11, 2010. The online shopping spree contest is open to everyone over the age of 18 in the United States. Shoppers can enter the contest by visiting http://www.ultradiamonds.com and entering their email address into the contest signup field.
The Grand Prize Ultra Diamonds contest winner will receive a $500 Ultra Diamonds gift card that can be used to make purchases from any of the 175 Ultra Diamonds locations. Ultra Diamonds features hand-crafted earrings, necklaces, bracelets, rings, and more from world-class designers like Peter Lam, Jack J. Lauren G. Adams, Jennifer Phelps Montgomery, H.J. Namdar and many more.
"The Ultra Diamonds mission has always been to offer the highest quality luxury jewelry at prices that everyone can afford," said Kris Land, Chief Marketing Officer of Ultra Diamonds. "Our selective buyers search the world over for the finest high-end jewelry craftsmen and luxury jewelry collections. When we find a craftsman or collection we love, we work directly with the source to include those jewelry pieces in our collection at prices our customers can feel good about."
The Ultra Diamonds contest winner can use the $500 gift certificate on any purchases he or she would like, including popular men's fashion rings, stunning diamond engagement rings, and even gemstone jewelry, including jewelry made with a specific birthstones.
"Our greatest asset is our relationship with our customers. We enjoy helping our customers find the perfect jewelry for themselves or for their loved ones," said Land. "With this contest we wanted to spread the joy to more people and added our great product prizes to the contest. With the $500 shopping spree Grand Prize we know that one lucky customer will be able to have a jewelry shopping spree that will be special for a lifetime."
For more information about Ultra Diamonds or to enter the Ultra Diamonds $500 shopping spree contest, visit Ultra Diamonds. Must be 18 to enter contest.
More about Ultra Diamonds
Ultra Diamonds is the 5th largest specialty retailer of fine jewelry in the United States and operates in 175 locations across 33 states. Ultra Diamonds jewelry is hand-selected by Ultra Diamonds buyers who work directly with jewelry craftsmen to ensure that each Ultra Diamonds piece is made with the finest materials and priced to be affordable for all.
For more information visit Ultra Diamonds.
Contact:
Kris Land
(312)922-3800
###