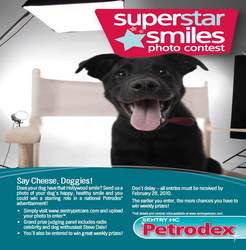 Brush, Rinse, Chew and Play. It's called the Power of 4.
Omaha, NE (PRWEB) February 2, 2010
Sergeant's® Pet Care Products and celebrity pet specialist Steve Dale are joining forces to find a dog with that 'Hollywood smile' for the Petrodex® Superstar Smiles Photo Contest. Sentry HC Petrodex, the world-wide leader in pet dental health product development, is a brand in the Sergeant's family of products in the pet specialty channel.
Sergeant's wants to see photos of pets with happy, healthy 'smiles', the natural result of good pet dental care. The contest coincides with the company's focus on raising awareness of the importance of pet dental care during National Pet Dental Month in February.
Here's how it works: Send pictures of your dog's happy, healthy smile and you could become a national star! During the contest, which runs from January 18 – February 28, photo entries can be uploaded at http://www.sentrypetcare.com. Submitted photos will be available for view in the contest photo galleries, and visitors can even give their thumbs up or thumbs down to photos displayed.
Weekly winners will be chosen to receive gift baskets with an assortment of some of the world's most advanced pet dental care products from Petrodex®.
The Grand Prize winner will be chosen by celebrity radio personality and pet enthusiast Steve Dale. The winning dog will be awarded a professional photo shoot and be featured in a national Petrodex advertisement! They'll also receive a variety of pet dental care products from Sentry HC Petrodex. The winner's owner will receive a framed portrait of their pet.
So if your dog has ever dreamed of national fame, or has an irresistible, clean and healthy smile, upload your entry between January 18 and February 28. Your pooch may just be discovered!
About Sergeant's Pet Care Products
Sergeant's Pet Care Products, Inc., is based in Omaha, Neb. USA, and is a leading supplier of pet supplies including flea and tick remedies, health and well-being products, natural and formulated treats, rawhide chews, toys, accessories, dental and aquatics. Sergeant's has been caring for pets since 1868, and is America's oldest full-line pet supplies company with one of the most trusted names in pet care. For more information, visit the Sergeant's web site at http://www.sergeants.com.
###