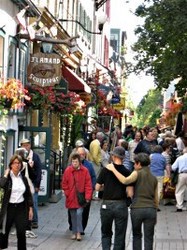 The American Dream is being down-sized. There's a turning away from the consuming lifestyle. Replacing this is a genuine hunger for community. Many of us now seek small towns as places to thrive, re-invent ourselves and create new livelihoods.
Beaufort, NC (PRWEB) February 3, 2010
Vibrant Village, a new on-line magazine features the best and brightest of small towns news and innovation. No longer sleepy, many small towns are starring in new lifestyles by delivering pedestrian-friendly, safe, lively, connected and welcoming places to live.
Patricia Frank, editor and publisher of Vibrant Village says, "The American Dream is being down-sized. Concurrently, there's an expanding hunger for community, connection and a turning away from a consuming lifestyle. Small towns are being sought as places to thrive, re-invent ourselves, get out of our cars and create new livelihoods. In large part, we can thank the baby boomers for re-inventing small town life with a 21st-Century twist."
Never, in the history of the U.S., has there been such a large portion of the population closing in on retirement. One fourth of the total U.S. population—83 million—are boomers ranging from age 45-63. One fourth of the total U.S. population belongs to this group. And many of them are actively searching for a small town to call their own.
But not just any small town. They're looking for real estate value, scenic beauty, and lively towns filled with amenities. Vibrant Village, a new media start-up published by Vibrant Village Media, is the go-to publication for small town seekers.
According to the the United States Department of Agriculture (USDA) Report (Baby Boom Migration and Its Impact on Rural America, by John Cromartie and Peter Nelson, ERR-79, August 2009) the rural population age 55-75 will increase 30% between 2010 and 2020 due to baby boom migration. Vibrant Village shines a spotlight on small towns that are creatively, economically and intellectually vibrant.
It's not just boomers on the edge of retirement who are moving back to small towns. Younger families crave a better environment to raise their children. Lower crime, especially lower street crime, is a big draw. More value for the real estate dollar—more space for less money—have families exploring small towns. For this group, too, Vibrant Village is the venue to explore innovative small towns, ask questions and get information.
How many newcomers to small towns can we expect to see? The USDA reports estimates, "If they (baby boomers) continue the marked preference for non-metro destinations exhibited during their earlier life stages, non-metro net migration of baby boomers could reach as high as 1.5 million in this decade and 1.6 million in the next."
That's a sizable influx of newcomers looking for housing and goods. Many small towns are devising their strategies on how to attract and win this market. And it's not just the traditional sun-belt regions that will gain population from baby boomer migration. According to the USDA report, "These trends affect not just traditional retirement regions in the South and West, but regions throughout the country."
The magazine explores what attributes comprise a vibrant village, plus delivers features and news. Vibrant Village editorial focuses on positive news taking place in small towns. Readers will find practical information on housing, economics, health, agriculture and food, entrepreneurship, new vocations and building community. Innovations and innovators will be featured.
Vibrant Village columnists give voice to the world of village life through essays about our natural world, coming home, books and libraries, cooking and kitchen tips, growing food and gardening,, creating and selling art, friendship—and more. The goal of Vibrant Village is two-fold: to provide information and inspiration to readers.
A developing trend Vibrant Village notes is that people want to get out of their cars and walk. Pedestrian-friendly places are more and more popular.
Patricia Frank says, "We're demonstrating with our dollars that we want to re-connect with our neighborhoods, our neighbors, and local shop-keepers." A study conducted in August 2009 by Impresa, a consulting firm in Portland, Ore, found that houses in Charlotte, N.C., Chicago, Sacramento and San Francisco with above-average Walk Scores commanded a premium as much as $30,000 over similar home with lower Walk Scores.
Pedestrian-friendly living proves popular in cities and in small towns. New Urbanism mixed-use projects are in hot demand. Walkable streets with welcoming outdoor spaces help foster a sense of community.
As people begin to explore small towns, or as town leaders plan on how to attract newcomers, Vibrant Village will provide the inspiration—and the information.
"Part of our mission is making the search process easier," Frank says. "Connecting on our forums puts people in touch with their potential new neighbors—the people who know the town best. Dwellers in small towns are more than willing to extend a helping hand."
About Vibrant Village Media
Vibrant Village Media is a publishing firm specializing in new trends, lifestyle and social issues. Vibrant Village is their premier publication.
###