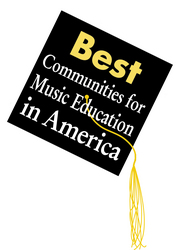 In the past, schools that have received the Best Communities for Music Education designation have reported increased support for their music programs
Carlsbad, Calif. (Vocus) February 3, 2010
During a time when music and arts classes are threatened nationwide, The NAMM Foundation announced today that it will continue its effort to recognize schools across the United States that have the strongest music education programs.
This year marks the Foundation's 11th annual Best Communities for Music Education (BCME) Survey, a nationwide search for communities whose programs exemplify a strong commitment to music education. Established in 1998, BCME recognizes and celebrates schools, their administrators, teachers, board members, parents and students for their support and commitment to music education. The program also celebrates communities and schools that have set a goal to provide continuing music education to all students.
The 2010 survey begins on Thursday, Jan. 14, 2010 and will remain open through Friday, March 12, 2010. The survey can be completed by visiting the NAMM Foundation Web site at http://www.nammfoundation.org . Each school district or community is allowed to fill out one survey and it must be completed by a school administrator and/or teacher who has access to school and district demographic and budgetary information. The announcement of the BCME final roster will be on May 3, 2010, a date that will commemorate Music Monday, a national celebration of music education and music making.
"In the past, schools that have received the Best Communities for Music Education designation have reported increased support for their music programs," said Mary Luehrsen, executive director, NAMM Foundation. "This recognition from the NAMM Foundation celebrates the remarkable accomplishments of students and the schools and communities that support their participation in music education."
Participants in the survey answer detailed questions about enrollment, student/teacher ratios, music class participation, instruction time, facilities, support for the music program, private music lesson participation and other relevant factors in their communities' music education programs. The responses are verified with district officials and program advisors review submission.
As in the previous years, the 2010 survey will be conducted in collaboration with The Institute for Educational Research and Public Service (http://www.ku.edu/~ierps/cgi-bin) of Lawrence, KS, an affiliate of the University of Kansas.
In conducting the annual survey, the NAMM Foundation is joined by advisory organizations in the fields of music and education: Americans for the Arts (americansforthearts.org), League of American Orchestras (americanorchestras.org), The Mr. Holland's Opus Foundation (mhopus.org), The Metropolitan Opera Guild (operaed.org), Music for All (musicforall.org), Music Teachers National Association (mtna.org), National Guild of Community Schools of the Arts (nationalguild.org), Yamaha Corporation of America (yamaha.com) and VH1 Save The Music Foundation (vh1savethemusic.com).
About The NAMM Foundation
The NAMM Foundation is a 501(c)(3) non-profit organization dedicated to advancing active participation in music making across the lifespan by supporting scientific research, philanthropic giving and public service programs from the international music products industry.
Contact:
Vladimir Lapin
Giles Communications
(914) 798-4118
vlapin(at)giles(dot)com
# # #