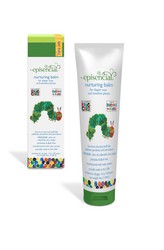 Skincare benefits the body beyond beauty and today's parents want to know their dollars make a difference for both their families' health and that of the planet.
Los Angeles, CA (PRWEB) February 4, 2010
Episencial proudly announces that its actively healthy skin care products for babies, kids and planet are now available at more than 450 Target stores around the country. Families with green values can find the chemical free, immune boosting formulas featuring the beloved artwork of "The Very Hungry Caterpillar" from The World of Eric Carle by visiting Target.com or from Episencial's store locator at http://bit.ly/EpisencialAtTarget .
Episencial is the first company to deliver clinically effective, newborn-safe products designed to support the essential immune functions of the skin. Made exclusively from all natural ingredients and loaded with organics, Episencial is leading the chemical-free charge in personal care products for kids. The Episencial skin care system offers parents a complete range of products based upon formulas relied on by leading spas and clinics for more than 30 years.
"Episencial products are meaningful, affordable and conveniently available which is a departure from the norm in the natural health and beauty category, " said Kim Walls, skin care clinician and CEO of Episencial. "Skincare benefits the body beyond beauty and today's parents want to know their dollars make a difference for both their families' health and that of the planet. "
Often, parenthood brings with it a renewed connection to the environment. The marketplace is filled with products eager to oblige this new sense of purpose in an effort to increase sales. Unfortunately most of the choices available fall short of consumer expectations of effective, all natural formulas and honestly green manufacturing practices. Moving beyond the "greenwashed" approach typical of mainstream natural products, Episencial manufactures in the U.S. using solar power and recycled and sustainable packaging.
Parents can choose Episencial with confidence; without compromising on quality, their commitment to the environmental or their budget. Prices for Episencial products range from $5.99 to $14.99, well below the average prices of high quality, natural personal care products for children. Featuring the favorite fruits from The Very Hungry Caterpillar, the complete Episencial skin care system includes:
Nurturing Balm - Relief and protection for diaper area and sensitive places (The Caterpillar)
Protective Face Balm SPF 6 - All over relief for chapped skin & lips (Apple)
Soothing Cream - Relief for eczema, itches and bothered skin (Pear).
Sweet Dreams Bubble Bath - Long-lasting bubbly gel concentrate (Plum)
Better Body Butter - Silky soft hydrating lotion (Strawberry)
Playful Foaming Wash - Ultra pure hydrating hair and body cleanser (Orange)
Sunny Sunscreen SPF 35 - Water resistant sun protection for face and body (The Sun)
Actively Healthy Skincare Tips from Kim Walls, MS:
As we are still in the grips of cold and flu season, frequent hand washing remains our best weapon against illness. But frequent hand washings - and popular antibacterial cleansers - have unintended results. Here are some of Kim's insights for truly healthy hands using the power of probiotics:

Yes, to keep germs at bay it is important to wash your hands frequently and avoid touching your face.
However, the reality is, while reducing the germ load on your hands, harsh soaps and hard water can strip the skin of its natural protection.
Combined with cold weather, dry air both indoors and out, and the skin on your hands becomes vulnerable to damage from chapping and cracking.
This damaged skin (located on the most exposed parts of the body…your hands) can compromise the body's barrier to germs - defeating the purpose of washing your hands in the first place!
Applying a probiotic cream, such as Episencial Soothing Cream, ideally while hands are still damp from hand washing, not only moisturizes but supports the natural ecosystem of beneficial bacteria on your skin that help protect the body.
About Episencial:
With Episencial products you can begin to instill green values from day one. Sharing these fun and inviting products -- and the care and consideration that goes into making them - with children can serve as a building block for making actively healthy choices for themselves and the planet. Episencial was founded by Kim Walls, M.S., a second-generation skin care expert from the Epicuren family, who couldn't find skin care products for her babies that met her standards for quality and care for the environment - so, she created her own with the help of several moms and dads. Episencial now proudly offers two distinct all natural skin care lines: Epicuren Baby featuring exclusive imagery from renowned artist Anne Geddes and the new Episencial skin care system with artwork from The World of Eric Carle.
Sales of Episencial products benefit the company's philanthropic partner Healthy Child, Healthy World and its mission to protect children from harmful chemicals.
About Target:
Minneapolis-based Target Corporation serves guests at 1,740 stores in 49 states nationwide and at Target.com. Target is committed to providing a fun and convenient shopping experience with access to unique and highly differentiated products at affordable prices. Since 1946, the corporation has given 5 percent of its income through community grants and programs like Take Charge of Education. Today, that giving equals more than $3 million a week.
###