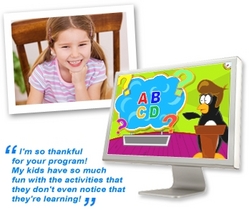 The website is fun and colorful, and my children were attracted to it and wanted to play as often as I would let them
Fort Lauderdale, FL (PRWEB) February 3, 2010
Time4Learning.com(TM), which provides online, interactive education programs, recently won a 2010 Best Products iParenting Media Award for its preschool program.
The Time4Learning(TM) preschool program combines technology, animated characters, original stories, and fun music to inspire a love of learning in the littlest e-learners. Ed Mouse(TM) and his friends guide children through more than 40 topics such as numbers, letters, rhymes, shapes, music, colors, and time.
The activities build skills in a variety of areas, including pre-reading literacy, math foundation, creative expression, music, art, and science. Lessons are interactive and engaging, with simple verbal directions, appealing graphics and catchy music. To use the program, children only need to be able to use a mouse and follow simple auditory directions; they do not need to know how to read to play the games independently.
Time4Learning's standards-based preschool program is comprised of two learning levels. Between the two levels, there are 175 educational activities that will help prepare preschoolers for kindergarten. Children can go at their own pace and repeat activities as often as they like.
Parents and experts alike praised the Time4Learning preschool program for its entertaining and engaging activities, as well as its ease of use. "The website is fun and colorful, and my children were attracted to it and wanted to play as often as I would let them," commented one reviewer. Added another, "It is easy to navigate and provides prompts to help kids understand what they are looking at and doing."
Plus, there are tools and reports that enable parents to track their children's progress. For only $19.95 a month, children will delight in the friendly characters, interactive activities, and engaging musical videos. The Time4Learning preschool program is a valuable educational tool that makes learning fun from the very start.
To learn how parents are using Time4Learning with their children, join the Time4Learning parent community and forum. Registration is free, and you can participate in discussions or simply read along.
About Time4Learning.com
Launched in 2004, Time4Learning is a new approach that takes advantage of today's technology to improve children's education. It is a convenient, online home education program that combines learning with fun, educational teaching games. Time4Learning.com provides interactive curriculum in language arts, mathematics, science and social studies for students in preschool through eighth grade. Time4Learning is web-based, so there is nothing to download and lessons can be accessed from any computer. Time4Learning's curriculums can be used as the foundation for a homeschool program; for after school as an alternative to tutoring, learning centers, or supplementary workbooks; or as a fun substitute for summer school. Time4Learning also created Time4Writing.com(TM), online writing courses with a personal writing teacher for elementary, middle, and high school students.
About the iParenting Media Awards
The iParenting Media Awards is a Disney Interactive Media Group Property. The purpose of the iParenting Media Awards is to be the leading resource for high-quality products that helps parents raise their families. The iParenting Media Awards Program provides a credible and objective method of determining outstanding products in the marketplace and then honors them with our consumer award. We accomplish this with our thorough product evaluation process that includes careful review by parents, experts, licensed childcare centers, and schools nationwide. For more information, go to iparentingmediaawards.com/winners/26/Software.php. The six award winners for software are Time4Learning.com Preschool, SpellingCity.com(TM), Inspiration and Kidspiration, Kids' CBC Wonder World, and Norton Online Family.
# # #